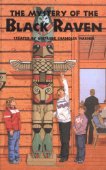 The Mystery of the Black Raven (Boxcar Children Special #12) created by Gertrude Chandler Warner
Description:
The Boxcar Children are traveling to Skagway, Alaska, for the annual Four-Rock Miners' reunion. They're looking forward to a week of sightseeing and even panning for gold. But before the fun can begin, the soapstone raven and the scrapbook that grandfather is set to inherit for the year go missing. They're nothing but old souvenirs, so why would anyone want to take them? The Boxcar Children set out to find the raven's secret!
My (brief) thoughts:
I don't think Amber's ever going to get tired of the Boxcar Children Mysteries. I find them a little boring, but she enjoys them, so I read them with her. This one did have some interesting facts about Alaska and the Gold Rush, though. As usual, there were several suspects and clues and it was fun to try to guess who the thief actually was.