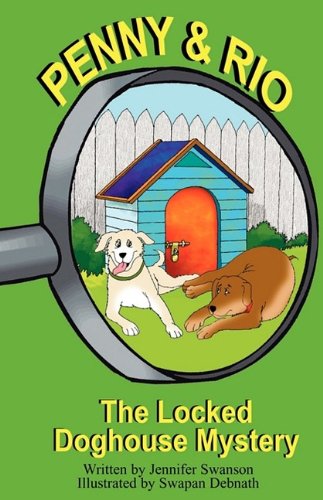 Penny and Rio: The Locked Doghouse Mystery by Jennifer Swanson
Amber and I enjoyed the first Penny and Rio mystery, so when Jennifer contacted me about reviewing the second, I was thrilled to agree.
Penny and Rio are on another case. Squeaky, a mouse, has a treasure. The problem is the treasure is in a locked dog house and Squeaky can't get in. With the help of a new friend, Penny and Rio find a solution. You'll have to read the book to find out what Squeaky's treasure is, though.
This was just as cute as the first. The dogs try several plans before they actually manage to get into the doghouse, emphasizing team work and perseverance. The importance of friends and family is also shown, with Penny and Rio realizing that even though they are different, being sisters is special.
This is a good one to read aloud or for elementary readers just starting on short chapter books. It's fun and talking animals appeal to a lot of children. That's why Amber likes the books, even though they're a little below her reading level. She loves dogs and dogs that solve mysteries are even better.
The giveaway:
Thanks to the author, Jennifer Swanson, I'm giving away one autographed copy of Penny and Rio: The Locked Doghouse Mystery. If you've got a child at home or know a child who loves animals, this would be perfect for them. To enter, just leave a comment below by October 20. Sharing somewhere, somehow will get you an additional entry or two. I'll announce the winner on October 21. This one is open to the US and Canada.