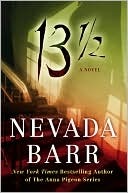 13 1/2 by Nevada Barr
Let me start off by saying that yes, I've read some of the Anna Pigeon books and enjoyed them, but this is a stand-alone. I was expecting something entirely different and that was what I got. This is a dark, psychological thriller, and as such was enjoyable but a tad predictable.
In 1971 in Minnesota, an eleven-year-old boy, the "Butcher Boy," is convicted of killing his parents and baby sister. His older brother is injured but lives.
Fast forward to post-Katrina New Orleans. Polly Deschamps, who ran away from an abusive home at 15, is an English professor and single mother to two daughters. She meets a charming, intelligent, attractive architect Marshall Marchand. She falls in love with him and they are married within months, but Marshall is hiding something and his dark moods begin to worry her.
This was a quick read that touched on some tough topics, like the juvenile justice system, surviving abuse, and learning to trust again, but it was the tight plot that kept me reading. I did figure out early what the twist was going to be, but still enjoyed the story. Barr keeps the tension tight, and she crafts scenes so vividly, delving into what makes her characters tick.
Scrabbling on sliding magazines, Polly was losing ground. The man's fingers were wire cables, his strength enough to drag her backwards. Far stronger than she, he could have hammered her kidneys with balled fists; he could have thrown himself upon her and snapped her neck or slammed her head into the floor. He did none of these things; slowly, as if he savored the process, he was pulling her into himself, swallowing her as a snake would swallow a mouse. Garbage piled up under Polly's chin, drowning her. Scrabbling on the glossy magazines, her hands found no purchase. (pg. 243)
In truth, I guess I expected more from this book than I got. Barr is an excellent writer, which shines through, but I expected to be caught off guard more by the storyline. It didn't stand out in the sea of thrillers, at least for me.
Challenges: 100+, A to Z, Thriller and Suspense
My copy was borrowed from the library and the above is my honest opinion. I am an Amazon associate.