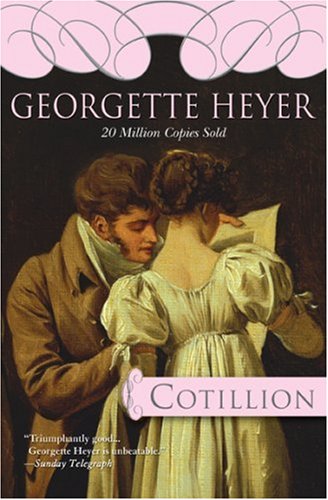 Cotillion by Georgette Heyer
The word "classics" tends to bring to mind long, boring books, the kind you just have to wade through. I'm not sure why that is. The classics I've read over the last several years have, for the most part been, been wonderful, some of my favorites. I almost wish I could refrain from referring to them as "classics," simply because for so many people the word is such a turn-off.
Cotillion was published in 1953 and is one of many Regency Romance written by Heyer. To be honest, I haven't quite finished reading it yet. I could have rushed through I guess, but I'm finding it a delightful story and want to take my time with it.
Kitty, the heroine, is a charming young woman. She is to inherit a fortune from her guardian, but only if she marries one of his great-nephews. Kitty is not appalled by the plan, but wants the right nephew to propose – Jack, a fascinating, handsome rake, but he doesn't seem interested.  Kitty conceives a plan. In a bid to finally see London and perhaps to make Jack jealous, she convinces another of her "cousins," Freddy Standen, to pretend to be engaged to her.  Freddy, while not the brightest man on the planet, is kind, has good taste, some common sense, and knows his way around Society. Her plan brings her to London where she meets Freddy's family and a variety of other characters, including a long-lost cousin and a new friend.
I have to admit that I peeked ahead to the ending and am happy to report that I was pleased with how the main romance turns out. This is just such a fun, light-heated story. All the characters are enjoyable, whether they be kind or cunning, smart or dull and their interactions are priceless. I find myself smiling and laughing.
I'll be reading this one for another day or two, but I'm sure it won't be the last Heyer I read. I do have to admit though, that I'm a fan of historical romance in general, at least well-written ones. It's a shame that I've waited so long to read something by Heyer, who essentially established the genre.
Update 3/22 – I finished Cotillion this past weekend, and I have to say I loved it. Kitty is just adorable, wanting to help everyone. And Freddy, doing everything he can to make Kitty happy, even when he doesn't know how she feels about him is great. I'd fall in love with him myself.
I'll grant you that Dolph's mother is horrible, although I'm not sure if she would have followed through with her threats. And the only way it seems for women to have any decent future is through marriage or being a wealthy man's mistress, but Heyer handles all the situation quite gracefully, I thought.
First published 1953
355 pages
Challenges: 100+,  Romance
My copy was borrowed from the library and the above is my honest opinion. I am an Amazon associate.