Can I review The Crossing Places by Elly Griffiths without talking about the mystery? Probably not, but the plot is not what kept me engrossed in the book, it was the setting and the main character that held my attention.
I listened to this on audio, read by Jane McDowell. That's the one thing about going fishing, it gives me plenty of time to listen to books. I can fish and listen easily enough, especially when I'm not catching many fish. McDowell did an excellent job, but I will give a small warning. The book is written in the present tense, which is rather unusual. I'm not sure if I would have noticed if I hadn't been thinking about tenses already. I actually tend to write in the present tense myself, but I know it can be off-putting for some people.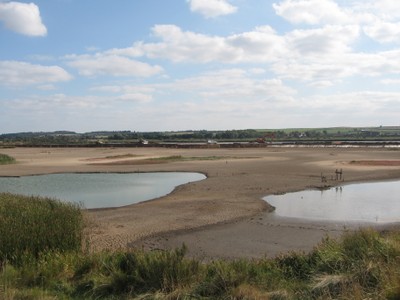 Ruth is an archaeologist, a single woman closing in on 40 who lives with her cats in a remote area of North Norfolk called Saltmarsh. She may be a little prickly, but I really liked her. She's smart, independent, actually doesn't need a man in her life to make her happy. There is a touch of not romance exactly, a relationship let's say, but it in no way overwhelms the book. Ruth may be overweight, but she likes herself. She's content with who she is for the most part. She can be a little harsh and is likely to say what she's thinking, even to an attractive detective.
When a child's bones are found in the marshes, Ruth is asked by DCI Harry Nelson to come out and look at them. The bones turn out to be two thousand years old, and Nelson is disappointed. He'd hoped they would be the bones of a child who's been missing for ten years; he's been getting letters about her ever since, which he allows Ruth to read. Then a second girl goes missing and Nelson receives more letters. Soon it becomes clear that Ruth is in grave danger from a killer who knows that her expert knowledge is being used to help the police with their enquiries.
The setting is fascinating. The marshland is described by Griffiths as "neither land nor sea but a mixture of both." To prehistoric people it was "a kind of bridge to the afterlife–neither land nor sea, neither life nor death," a crossing place. It's desolate and forlorn, but Ruth loves it, can't leave, and she made me love it too. It's a fascinating place, full of history and secrets, danger and beauty. It's one of those strong settings that becomes a character in itself. The book just wouldn't have been the same set anywhere else.
Archaeology and mysticism kind of go hand-in-hand here. The sites and artifacts are important, but so are their meaning, their purpose. The mystery of course gets solved, but the story is also an exploration of loneliness and comfort. One of my favorite reads this year.
Both photos are thanks to WREN.
You can purchase The Crossing Places on Amazon or from an Indie bookstore.
5 out of 5 stars
Category: Mystery & Detective – Traditional British
Ruth Galloway #1
First published 2009
8 hours 26 minutes
Book source: Library