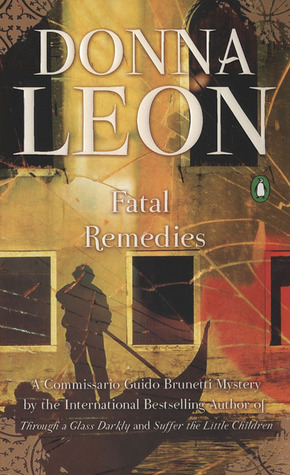 I've taken to listening to audio books while I'm running, so I'm finishing them at a quicker rate than I used to. I'm still a pretty slow runner still, but I'm up to over 3 miles, 3 times a week, and I'm brave enough to run in the neighborhood and on main street, which means some ups and downs, not just the flat, smooth circle at the park.
I've listened to several of the Commissario Guido Brunetti mysteries, although I'm not really following any order. Each stands on its own pretty well, but of course characters continue from one to the next. I've mentioned before that Brunetti's family is very present in the books, he's not a detective out there on his own, he has a lovely wife, Paola, and two teenage children, who he talks with, spends time with. They'll all be home for dinner, and what delicious dinners they have. In Fatal Remedies, Paola is even more of a focus than usual. The story opens with her throwing a rock through a travel agency window, a deliberate act of vandalism demonstrating against sex tours. When she does is a second time, Guido can't keep it out of the police reports or the papers, but then the travel agency's owner is murdered and an even more harmful and truly illegal activity is uncovered.
I've talked about Guido before. He's one of my favorite detectives, dedicated but working in a corrupt city. What I liked about this Fatal Remedies in particular is that it looks at how Guido and Paola function as a couple when her morals and her need to act on them interferes with his job as upholder of the law. They argue and forgive and argue again. Guido is real, he has a home life in addition to his job and it can be a tough balance.
The plot was put together well. There are no shocking revelations, really, but the wondering how it will all play out kept me interested.
I've been listening to this series out of order, and I feel they work just fine that way. It's definitely a series I keep going back to. The characters are vibrant, the Venice setting is an integral part of the books, and I would love to eat with the Brunettis one day.
4 out of 5 stars
Category: Mystery & Detective- Police Procedural
Amazon | IndieBound | Website
Commissario Guido Brunetti #8
First published 1999
7 hours 4 minutes
Read by Anna Fields
Book source: Library
Commissariou Guido Brunetti Series
Death in a Strange Country
Dressed for Death (APA: The Anonymous Venetian)
Death and Judgment (APA: A Venetian Reckoning)
Death of Faith (APA: Quietly in Their Sleep)
Fatal Remedies
Friends in High Places
A Sea of Troubles
Wilfull Behavior
Uniform Justice
Doctored Evidence
Through a Glass Darkly
Suffer the Little Children
The Girl of His Dreams
About Face
A Question of Belief
Drawing Conclusions
Beastly Things