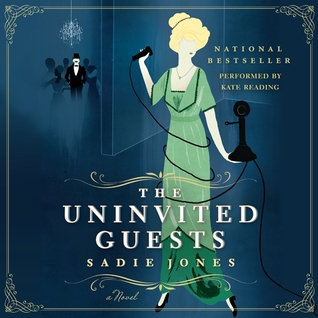 Title: The Uninvited Guests
Author: Sadie Jones
Read by: Kate Reading
Category: Fiction
Audio published: October 2, 2012 by Harper Audio (First published: January 1, 2012)
Rating: 3 out of 5 stars
Add: Goodreads
Purchase: Amazon | IndieBound | Book Depository
One late spring evening in 1912, in the kitchens at Sterne, preparations begin for an elegant supper party in honor of Emerald Torrington's twentieth birthday. But only a few miles away, a dreadful accident propels a crowd of mysterious and not altogether savory survivors to seek shelter at the ramshackle manor—and the household is thrown into confusion and mischief.
The cook toils over mock turtle soup and a chocolate cake covered with green sugar roses, which the hungry band of visitors is not invited to taste. But nothing, it seems, will go according to plan. As the passengers wearily search for rest, the house undergoes a strange transformation. One of their number (who is most definitely not a gentleman) makes it his business to join the birthday revels.
Evening turns to stormy night, and a most unpleasant parlor game threatens to blow respectability to smithereens. Smudge Torrington, the wayward youngest daughter of the house, decides that this is the perfect moment for her Great Undertaking.
I don't know what I was expecting, but I know it wasn't what The Uninvited Guests turned out to be. I remember hearing about the book last year when it came out, seeing some mixed reviews. The cover struck me but aside from that nothing about it really stood out for me. I didn't even add it to my to-read list, but I was browsing the library's on-line audio selection and came across it. I thought it would make a nice break from the mysteries I've been reading lately and the queue was short, so I put a hold on it and listened to it last week. I probably would not have chosen it had I known more of the plot detail, so I'm glad I didn't know. Overall, this book was a rather odd surprise and I'm glad I listened to it.
Kate Reading read the story well. Am I the only one who is re-experiencing the joy of being read to, even if it's through audiobooks and not a live person sitting next to me? Her voice is genteel and fit the setting so perfectly that as the story turns more and more bizarre, her voice keeps it reasonable somehow.
The Torrington's are a slightly unconventional family, and the youngest, Smudge, is perhaps the most eccentric, and over-looked of them all. I liked them, imperfections and all. I got sucked into their world. It's Emerald's birthday, a few guests are invited to dinner, and the household wants her day to be special. Well, as much as any of them can because they really are a fairly self-centered bunch. The step-father has to go out-of-town to beg for a loan to save the house, but the party will go on anyway.
After a train wreck sends weary passengers to seek shelter at Sterne, it all starts going awry. The night is full of rowdiness, of unexpected turns. There's a horrid after-dinner party game, a breakdown of class distinctions, and a scandalous secret is brought to light. In the midst of it all, Smudge decides is the perfect time for her Great Undertaking, which just cause more chaos and lead to breaking down a physical wall. (I loved Smudge!) In the end though, they all pull together, learn more about themselves and about each other.
Above, I stated this is fiction. It's formal, descriptive writing sets it firmly in its period, almost a comedy of manners, but that contrasts with the more macabre aspects. If it were a different setting, a different group of people, I would call it horror, but it doesn't quite fit as is.
I can see why there were mixed reviews for The Uninvited Guests. Based on the blurb, it's not clear the turn the book takes, and I know I for one have avoided giving the whole thing away, so you don't know fully what to expect when you start reading it. I guess it depends on how willing you are to change your expectations midway through, and how willing you are to accept a bit of "Twilight Zone meets Downton Abbey," as someone else said. (I've lost where that came from. If it was you, let me know and I'll credit you.)
Challenge: WAYR