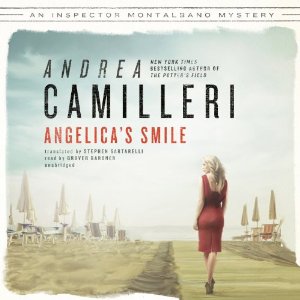 Title: Angelica's Smile (Inspector Montalbano #17)
Author: Andrea Camilleri
Translator: Stephen Sartarelli
Read by: Grover Gardner
Category: Mystery
Audio published: June 24, 2014 by Blackstone Audio
Rating: 3 out of 5 stars
Add: Goodreads
Purchase: Audible | Amazon | Book Depository
A rash of burglaries has Inspector Salvo Montalbano stumped. The criminals are so brazen that their leader, the anonymous Mr. Z, starts sending the Sicilian inspector menacing letters. Among those burgled is the young and beautiful Angelica Cosulich, who reminds the inspector of the love-interest in Ludovico Ariosto's chivalric romance, Orlando Furioso. Besotted by Angelica's charms, Montalbano imagines himself back in the medieval world of jousts and battles. But when one of the burglars turns up dead, Montalbano must snap out of his fantasy and unmask his challenger.
I like this series more in theory than I do in fact. Angelica's Smile was okay, but not outstanding. Of course, it probably didn't help that I missed all the Orlando Furioso references, since I'd never heard of it, let alone read it. Apparently, it's "one of the most influential works in the whole of European literature" and I've missed out on it. Once again, Montalbano falls in lust at first sight. Maybe it's some kind of midlife crisis, he feeling old, she's attractive, he decides cheating on his girlfriend is an option after all. Meh.
The burglaries themselves are rather interesting, although the criminal is contacting Montalbano directly, which happened in the last book I listened to in this series. Does that actually happen often in real life? I kinda doubt it.
The Sicily setting is fabulous and does often lead to some great food. And I like the general attitude, it's amusing and clever. Montalbano'a a bit of a jerk, but in a good way. I don't think I'd like him in real life, but he's enjoyable to read about.
This one didn't grab me though. There was nothing that really elevated it from your average mystery. The cast of secondary characters/suspects was a bit long and with all the Italian names they were hard for me to keep straight. The end was a bit confusing too, maybe because it was on audio and I wasn't fully paying attention, but I was happy with at least part of the whodunnit.
Grover Gardner did a good job as the narrator, I thought. He has the right tone for Montalbano and he makes it sound foreign but not too much so, if that makes sense. The audio's short, about 5½ hours, and has a lot going on, so it kept my attention. For a good quick read, it's not bad, but the first few I read in the series I enjoyed more than the last couple. I don't know if I'm being more picky now, or if they're just not as good.
Edit: If you're interested, here the link to the Wikipedia article on Orlando Furioso.