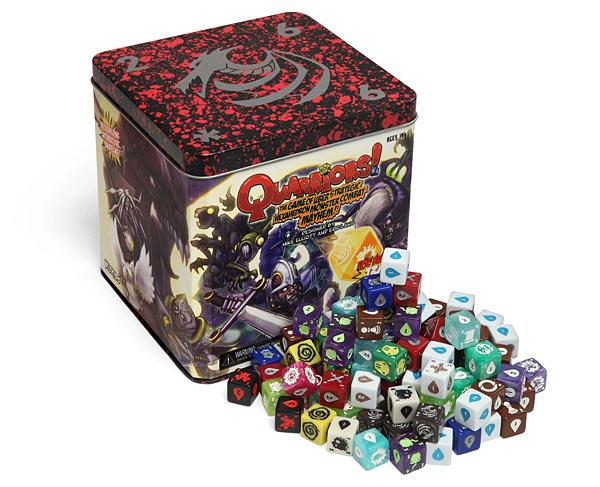 When I get to the tough letters of the alphabet, I tend to turn toward our games shelves, and Q has to be one of the toughest. Therefore, I present Quarriors from WhizKids.
Here's the blurb:
A unique blend of strategy and chance featuring a revolutionary dice building game mechanic!
As a Quarrior – a mighty mystical warrior – only you have the power to capture dangerous quarry from the untamed wilds!
But your rivals plot against you! They will send their own Creatures and Spells to destroy your Quarry before you can deliver them to Empress Quiana and claim your reward! Summon your Creatures and protect them from your foes and you will earn Glory for yourself.
The first player to earn enough Glory will be hailed as the Champion of the Empress.
I think it's a fun games. It's kind of deck-building, but with dice. You "buy" dice and add them to your stack and sometimes you are allowed to remove some. It's a short game, which means your plan needs to come together quickly. If you're playing for the long-term, you're going to lose. Wizards and dragons are always good choices.
Purchase: Amazon
This is my Q post for the A to Z Blogging Challenge.