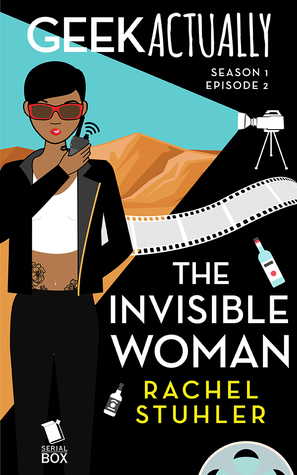 The Invisible Woman
by
Rachel Stuhler
Series:
Geek Actually #1.2
Published by
Serial Box
on June 14, 2017
Source:
Publisher
Genres:
Chic Lit
,
Episodic
,
Geek
Pages:
40
Format:
eARC
Purchase at
Bookshop.org
Add on
Goodreads
Meet your new best girlfriends. Michelle is a hard-nosed Science Fiction editor who is used to things going her way; Taneesha is a talented video game programmer who is used to being the odd (wo)man out. Aditi is a fantasy writer on the verge of her big break; Christina is a rebel on the sidelines of Hollywood. And Elli is a fan – of anything and everything that keeps are from "proper adulting." Together they are Rebel Scum (at least in their shared group chat), and best friends through thick and thin. They might live far apart but through the power of the internet and a shared love of all things geek, they are ready to face the world side by side.

When Christina meets her new charge on set, Vivi, she's pleasantly surprised at the definite spark between them. Taneesha's attempt to speak up at her new job backfires in a big way. Michelle ventures out to a party, but is she really ready to move past Ted?
The women of Geek Actually are all going through tough times in Episode #2. The episode started with a bit of their group chat and to be honest I wasn't a fan of that style. I was happy the author went back to a regular narration quickly.
Taneesha is still not being appreciated at her new company. I'm hoping she moves on soon. She is worth way more than they're giving her credit for. We're finally really meeting Christina and I'm not sure what to think of her yet. I think the new actress on set, Vivi, is definitely bad news for her, even if she's fun for the time being. Michelle's husband is officially out of the house, but she really is does spend too much of her energy on work and not enough on relationships.
This is the second episode with a bit of a steamy section. Even though they're geeks, these women are pretty, smart and sexy. They may not always make the best decisions, but who does?