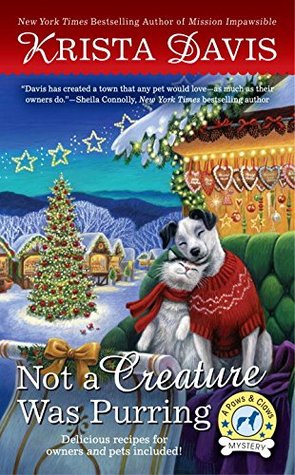 Not a Creature Was Purring
by
Krista Davis
Series:
Paws & Claws Mystery #5
Published by
Berkley Books
on November 7, 2017
Source:
Gift
Genres:
Cozy Mystery
Pages:
289
Format:
Paperback
Purchase at
Bookshop.org
or Purchase at
Amazon
Add on
Goodreads
Inspired by her German heritage, Holly's grandmother has arranged for Wagtail to have a Christkindl Market packed with goodies and decorations for the howliday tourists. But Holly's mood takes an unseasonable turn when she learns that her old flame and childhood friend Holmes Richardson has brought his fiancee home--and she'll be staying at the Sugar Maple Inn...

A love triangle becomes the last thing on Holly's mind when her Jack Russell Trixie's nose for trouble leads her to the corpse of a pet clothing tycoon. Now Holly and her dedicated detectives--Trixie and Twinkletoes the cat--must sniff out the killer to keep Christmas from going to the dogs...

Delicious recipes for owners and pets included!
This was my first visit to Wagtail, Virginia, but it is an awesome place, a perfect vacation spot to take your pets. My Secret Santa gave me Not a Creature Was Purring last year, but it took me until this December to get around to reading it. Wagtail is a perfect little pet-friendly tourist town. All the stores welcome cats and dogs, as does the inn. Dogs get to go sled-riding and pets can go to the nicest restaurant in town with their people. It really is a pet-centric town, my dog would love it.
Holly Maple and her grandmother run the Sugar Maple Inn (and her grandmother is mayor of Wagtail). This year the inn is booked solid for Christmas – the only problem is that it's mostly the family of Holly's best friend/love interest's fiancee. Holly wants to be nice, but fiancee is a pretty terrible person. Thankfully, because clearly Holmes and Holly belong together.
But of course, since this is a murder mystery, we have to have a corpse. Holly's dog, Trixie, finds the body, which is apparently a regular thing in this series. I'm glad Scrappy doesn't have a habit of finding dead bodies. The dead man, Dale, is a pet clothing manufacturer, and the fiancee's grandfather. Practically the entire family are suspects, as is a business rival who happens to be in town. The family in general are all spoiled and not nice people in the least. Dale had been to the point of cutting them all off before he was killed. Then his wife turns up dead too.
The author does a good job of giving us enough clues, but not too many. The mystery portion of it was well done, but I loved the characters and setting. Christmas in Wagtail seems like so much fun, even with a murder investigation going on.
I think I'll go back and read the others in the series. And, if you're still Christmas shopping like I am, this might be a good choice for any mystery-loving, dog-loving ladies on your list. It's got a good mystery, a touch of romance, and plenty of Christmas trappings. Of course, you may have to pick up the whole series if they like to read from the beginning. This one worked fine as a stand-alone for me, though.