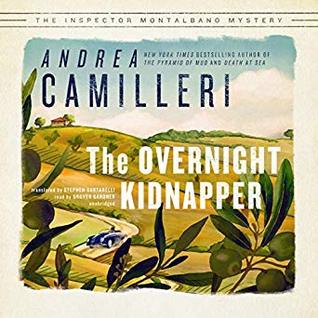 The Overnight Kidnapper
by
Andrea Camilleri
Translator:
Stephen Sartarelli
Narrator:
Grover Gardner
Series:
Commissario Montalbano #23
Published by
Blackstone Audio
on February 5, 2019 (first published April 30, 2015)
Source:
Library
Genres:
Mystery
Length:
6 hrs 15 mins
Format:
Audiobook
Purchase at
Bookshop.org
or Purchase at
Amazon
Add on
Goodreads
The day gets off to a bad start for Montalbano: while trying to break up a fight on Marinella beach, he hits the wrong man and is stopped by the Carabinieri. When he finally gets to the office, the inspector learns about a strange abduction: a woman was abducted, drugged, and then released unharmed a few hours later. A few days later, the same thing happens again, but this time the woman abducted is the niece of Enzo, the owner of Montalbano's favorite trattoria. The only link between the two events is that both women are thirty years old and work in a bank.

Alongside this investigation, Montalbano has to deal with an arson case. A shop that sells household appliances has burned down, and its owner, Marcello Di Carlo, seems to have vanished into thin air. Has he run off with his lover after a holiday in the Canary Islands? Is he fleeing from his creditors, or was he murdered by the mafia for not paying their protection money? At first this seems like a trivial case, but a third abduction—yet again of a girl who works in a bank—and the discovery of a body bring up new questions. Whose body is it? And where has Di Carlo's secret lover gone?
The Montalbano series is not one I read/listen to in order. When I'm between books and one is available at the library I pick it up, which is how I ended up listening to The Overnight Kidnapper. It's pretty typical for the series.
We have some random, brief kidnappings that Montalbano is looking into, along with an arson, but, in true mystery book style, it's all connected and much more serious than it seems at first, when it turns into a murder investigation.
Montalbano is his usual self, amusing and charming in his own way. I think the narrator does a good job with him. We've got the usual sidekicks and I love the way his housekeeper/cook, Adelina, deals with a break-in without losing track of her pasta. I guess I just like the feel of these books, the characters, the setting, the food.
The actual mystery in this one was fine, if a little odd. Who kidnaps a woman for just an hour and then leaves her somewhere to be found? Turns out someone who's covering up another crime. As always, Montalbano does a thorough job at the investigation, even pulls in his friend at the tv station to set up a bit of a trap.
The Overnight Kidnapper is not outstanding, but I enjoyed it. Would I recommend it to someone who hasn't read any in the series? Probably not, it's not one of the best, but if you already know Montalbano and his friends and co-workers, it's always good to tag along on one of his investigations.