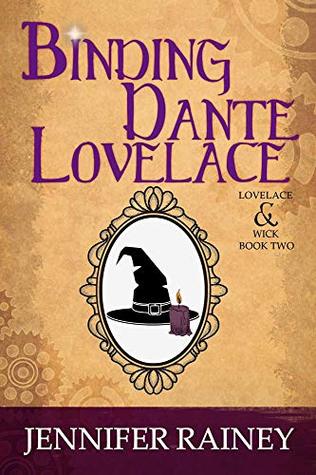 Binding Dante Lovelace
by
Jennifer Rainey
Series:
Lovelace & Wick #2
Published by
Amazon Digital Services
on December 2018
Source:
Kindle Unlimited
Genres:
Historical Fantasy
,
Steampunk
Pages:
303
Format:
eBook
Purchase at
Bookshop.org
Add on
Goodreads
Dante Lovelace is not accustomed to waking up in unfamiliar beds... and he's even less accustomed to working with witches.

Imagine his displeasure when both happen consecutively.

After being spirited away—i.e. kidnapped—Dante finds himself at the mercy of Miss Beatrice Dickens, a witch and spiritualist who has placed a binding spell upon him to strengthen her own powers. As demons must, Dante begrudgingly surrenders to his fate but soon discovers the witch needs him for protection. Zero Bancroft, an uncommonly dangerous man, wants to release an uncommonly dangerous beast in Beatrice's keeping: a soul-eater. It's up to Dante and Beatrice to stop him.

If that weren't enough, Dante must also contend with his partner, Iago Wick, who longs to defect and abandon his Hellish duties—and he wants Dante to follow. What's a demon to do?

With some new companions (and a certain inventor) on their side, Mr. Lovelace and Mr. Wick must contend with magic, hunters, automatons, and even uncomfortable family reunions. Can they protect the world from Bancroft's mad scheme, or is the Apocalypse just around the bend?
My two favorite demons, Dante Lovelace and Iago Wick, are in trouble again. Definitely go back and read The Last Temptations of Iago Wick, the first in the series, before Binding Dante Lovelace though. It gives some extra background to the characters that I think it's better when reading this one. The first gives more attention to their jobs as demons, while this one's focus is a bit different.
Dante has been bound by a witch, which Hell lets occur. They don't really have their demons' backs when it comes down to it. The witch needs his power to add to hers, but we don't find out why for a few chapters. Turns out the world is actually in danger and Dante has been forced to help save it. Of course, Iago leaves Boston to join him.
Of course, saving the world is never easy, especially not for demons. The costs are high.
I adore Dante and Iago. I love how they face everything, from monsters to witches to defecting from Hell together. Their romance is in the background of the larger plot, but it's integral in how they work together and support each other and each other's allies.
Binding Dante Lovelace is light and entertaining and just a good way to spend an Autumn day. Book #3 comes out on Halloween which seems like perfect timing.