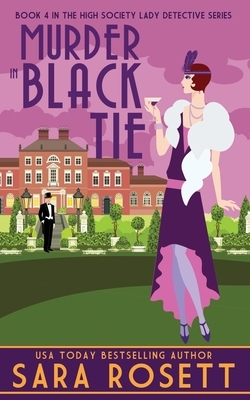 Murder in Black Tie
by
Sara Rosett
Narrator:
Elizabeth Klett
Series:
High Society Lady Detective #4
Published by
the author
on October 2, 2019
Source:
Purchased
Genres:
Cozy Mystery
,
Historical Mystery
Length:
6 hrs 5 mins
Pages:
284
Format:
Audiobook
Purchase at
Bookshop.org
or Purchase at
Amazon
Add on
Goodreads
Top hats and tails. Mink and murder . . .

November, 1923. An invitation to a house party at the estate of Parkview Hall is a welcome respite for Olive Belgrave, a newly minted working girl who's become the solver of high society's trickiest problems.

But when the sumptuous black tie event turns deadly, Olive's cousin Peter becomes the main suspect. Olive must unmask a sophisticated killer before an innocent man takes the blame . . . because murder doesn't RSVP.
Olive Belgrave is about to be homeless as her landlady is getting married and selling the boardinghouse. She packs up and heads back to Nether Woodsmoor to visit her family at Parkview Manor. Aunt Caroline and cousin Gwen are hosting a house party for a small group of friends and family, including Olive's father and his wife Sonia. Olive is happy to see her cousin Peter recovering from the trauma of the war but he isn't himself yet and when a guest is murdered, Peter becomes the number one suspect. Clearly Olive need to clear Peter's name.
This is a 1920s country house party murder mystery chock full of period details, especially fashion. The history of Parkview being used as a hospital during the war and how the characters were involved with that was interesting.
I like the limited cast in house party mysteries. Our murder victim, Vincent Payne, is a businessman in the antique map business, maybe not wholly on the up and up, who claims to have spent time at Parkview when it was a hospital. For a house party, there are actually a fair number of folks around, all with their own secrets and connections. The plot was well-done. I did not guess who the killer was but once it was revealed, I liked how it tied in to the house's history.
Overall, this was fun, but not outstanding. I've enjoyed others in the series more.