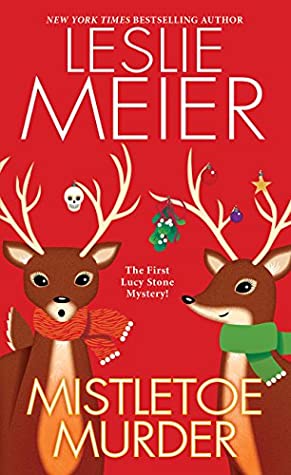 Mistletoe Murder
by
Leslie Meier
Narrator:
Karen White
Series:
Lucy Stone #1
Published by
Dreamscape Media
on September 29, 2020
Source:
Purchased
Genres:
Cozy Mystery
Length:
6 hrs 17 mins
Pages:
224
Format:
Audiobook
Purchase at
Bookshop.org
or Purchase at
Amazon
Add on
Goodreads
As if baking holiday cookies, knitting a sweater for her husband's gift, and making her daughter's angel costume for the church pageant weren't enough things for Lucy Stone's busy Christmas schedule, she's also working nights at the famous mail-order company Country Cousins. But when she discovers Sam Miller, its very wealthy founder, dead in his car from an apparent suicide, the sleuth in her knows something just doesn't smell right.

Taking time out from her hectic holiday life to find out what really happened, her investigation leads to a backlog of secrets as long as Santa's Christmas Eve route. Lucy is convinced that someone murdered Sam Miller. But who and why? With each harrowing twist she uncovers in this bizarre case, another shocking revelation is exposed. Now, as Christmas draws near and Lucy gets dangerously closer to the truth, she's about to receive a present from Santa she didn't ask for--a killer who won't be satisfied until everyone on his shopping list is dead, including Lucy herself…
Mistletoe Murder is the first of the Lucy Stone mysteries, set in the fictional seaside town of Tinker's Cove, Maine. Lucy is mom to three, wife to Bill, and second shift telephone sale rep for the community's biggest employer, Country Cousins. As you can guess from the title, it's Christmastime.
While on break one night, Lucy finds her employer, Sam Miller, dead in his car, a murder staged as suicide. But who would want to kill the company's likable boss? Though Lucy is busy with Christmas preparations, she can't resist doing a little investigating of her own. When friendly local policeman, Barney, loses control of his vehicle and ends up in a coma, the stakes rise. What did Barney know that made him a threat to the killer?
I like the small town atmosphere. Meier does such a nice job of capturing everyday life, whether that's working in a call center, everyone in a small town knowing one another, or covering childcare for your neighbors when there's been an accident. Lucy is an amiable intelligent amateur sleuth. She has a lot on her plate – Christmas, her kids, her mom who's visiting, work, home. And she still has time to do some detecting on the side.
I didn't like the callous way pets were treated. I didn't like Lucy's complaining and her impatience with her mom. Yes, in real life I know complainers like her, but I don't really want to read it.
Overall, this was a okay seasonal cozy, but I don't think I'll read another in the series. Of course I said that a few years ago when I read a Halloween one.