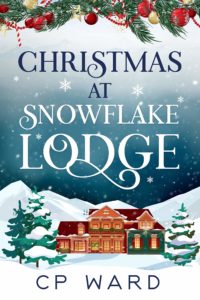 Christmas at Snowflake Lodge
by
C.P. Ward
Series:
Delightful Christmas #5
Published by
the author
on September 30, 2021
Source:
Rachel's Random Resources
Genres:
Christmas Romance
Pages:
233
Format:
eBook
Purchase at
Bookshop.org
Add on
Goodreads
Plumber Jessica Lemond is determined not to follow in her parents footsteps by living off her famous grandfather's fortune. However, when the old timer himself elopes to Scotland with suspicions over the recent death of his much younger third wife hanging over his head and a private detective on his tail, it is left to Jessica to follow and clear up the mess. Happy to escape from her nightmarish lodger Doreen, she heads to the remote Snowflake Lodge with her young trainee Kirsten in tow.

However, Snowflake Lodge - with its oddball staff and very dodgy plumbing - is not how it appears in the brochure. Among the beautiful Scottish scenery, and with more hot chocolate and mince pies than she can possibly handle, can Jessica find something she didn't even know she was looking for?
Can I please go to Snowflake Lodge for Christmas? It's a magical place with decorations and hot chocolate and the nicest staff. There's skiing and ice skating and sleigh rides pulled by real reindeer. Jessica is there to work – she's a plumber, and to keep an eye on her grandfather. She's also escaping from her terrible renter/roommate. Honestly, I wanted to escape from Doreen too. I didn't enjoy the scenes with Doreen and her friends. She was a really awful person and I don't understand why Jessica put up with any of it.
Once Jessica decides to take the job at Snowflake Lodge, the book becomes a fun read. Grandpa is a great character, funny and adventurous, and maybe a bit of a skirt chaser. Jessica's love interest, James, is sexy and sweet. Christmas at Snowflake Lodge is part romance and part family reunion, and almost everyone gets a happy ending.