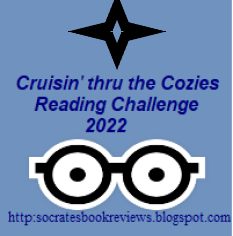 I'm joining the Cruisin' thru the Cozies Reading Challenge for 2022 hosted by Yvonne at Socrates Book Reviews. I'm aiming at being a snoop, reading 10 cozy mysteries, one from each of the categories below.
One from culinary
One from animal related
One from craft related
One from paranormal
One from cozy mysteries based outside the US
One career-based cozy mystery – Body at Buccaneer's Bay by Josh Lanyon (bookstore owner)
One holiday based
One travel mystery
One historical mystery
One is your choice!