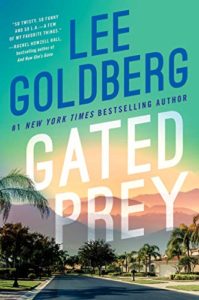 Gated Prey
by
Lee Goldberg
Narrator:
Nicol Zanzarella
Series:
Eve Ronin #3
Published by
Brilliance Audio
on October 26, 2021
Source:
Purchased
Genres:
Mystery
Length:
7 hrs 53 mins
Pages:
268
Format:
Audiobook
Purchase at
Bookshop.org
or
Audible
Add on
Goodreads
A simple sting operation takes a violent and unexpected turn for Detective Eve Ronin in a gripping thriller by #1 New York Times bestselling author Lee Goldberg.

Los Angeles County Sheriff's detective Eve Ronin and her soon-to-retire partner, Duncan Pavone, are running a 24-7 sting in a guard-gated enclave of palatial homes in Calabasas. Their luxury McMansion is a honey trap, set to lure in the violent home invaders terrorizing the community. The trap works, leaving three intruders dead, a body count that nearly includes Eve and Duncan.

Eve's bosses are eager to declare the case closed, but there are too many unanswered questions for her to let go. Was the trap actually for her, bloody payback for Eve's very public takedown of a clique of corrupt deputies? Or is there an even deadlier secret lurking behind those opulent gates? Eve's refusal to back down and her relentless quest for the truth make her both the hunter…and the prey.
Gated Prey is a popcorn book for me. It's the kind of book that seems like a mystery/action movie or tv show. I mean that as a good thing. It's action-packed and the setting and characters are described well.
Eve and Duncan are on an undercover sting operation, trying to catch some home invaders. The sting goes wrong and all three of the perpetrators end up dead. While still investigating the robberies and whether there was an accomplice, they get called to what should be a routine stillbirth in another of the gated communities, but it turns out to be much more complicated. For once, the two mysteries are not actually connected. Gated Prey is the third in the series and I would recommend reading them in order. Eve's background and previous cases definitely affect what's going on here and even though they're mentioned, you'll have a better idea of what's going on in the background if you've read the others first.
Eve is a good character, determined, driven, hard-working. She is going to wear herself out at this rate or end up dead, which is why Duncan makes a good partner for her. He's determined to not die before he retires in 80-ish days and is trying to teach her that you have to take time to sleep, that she needs to learn to play well with others. I like that even though she sets everyone on edge and people in the department don't like her, Duncan stands beside her. She is about justice, regardless of how she gets there. It's interesting that a subplot is a tv pilot that's in the process based on her life. She doesn't like how the fictional Eve is manipulative and politically aware and yet that's probably how a lot of people see her.
The two cases were compelling and both more and less complicated than they seemed. One of the twists was broadcast pretty early on, we were just waiting for the characters to catch up. Eve has "good instincts," which means she's almost always right and we just need to read on to see how she proves it and whose feet she steps on in the process. The plot moves quickly, there's plenty of tension, violence, and even a bit of wit.