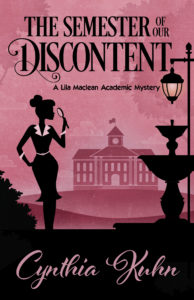 The Semester of Our Discontent
by
Cynthia Kuhn
Series:
Lila Maclean Academic Mystery #1
Published by
Henery Press
on April 5, 2016
Source:
Library
Genres:
Cozy Mystery
Pages:
227
Format:
eBook
Purchase at
Bookshop.org
Add on
Goodreads
English professor Lila Maclean is thrilled about her new job at prestigious Stonedale University—until she finds one of her colleagues dead. When she herself is suspected of involvement—by everyone from the chancellor to the detective working the case—she has no choice but to assign herself the role of amateur detective.

More attacks on professors follow, and the only connection is a curious symbol at each of the crime scenes. Putting her scholarly skills to the test, Lila gathers evidence, but her search is complicated by an unexpected nemesis, a suspicious investigator, and an ominous secret society. Rather than earning an "A" for effort, she receives a threat featuring the mysterious emblem and must act quickly to avoid failing . . . and becoming the next victim.
First off, the cat in The Semester of Our Discontent is Cady, named after the suffragist Elizabeth Cady Stanton. Our dog's name is also Cady. It's the one she came with from the shelter, but maybe I can use the suffragist line too?
This is the first in the Lila Maclean mysteries, all of which I'm hoping to read during March for the Can You Read a Series in a Month? challenge. Dr. Lila Maclean, a recent PhD graduate, has just been hired at the prestigious Stonedale University, where her cousin, Calista, is also a professor. Lila loves teaching and is passionate about Gothic and Mystery writing, probably one of the reasons I like her. She is not however thrilled with the pompous, sexist chair of the English department, who of course winds up murdered.
The Semester of Our Discontent is a smart, fun mystery, with a bit of humor to it. The college was a perfect setting and the rivalries and jealousies in the department felt real. Lila is a good amateur sleuth, intelligent, but she makes mistakes, gets caught up on the wrong trail. Her new colleagues are an interesting batch of characters and I'll enjoy getting to know them better throughout the series. The mystery itself was interesting with several twists and turns, a secret society, and a mysterious symbol, and I did not guess who the killer was.