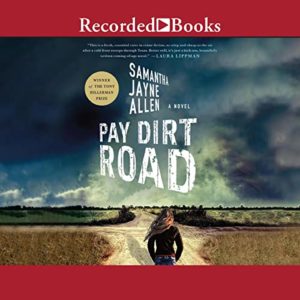 Pay Dirt Road
by
Samantha Jayne Allen
Narrator:
Sandy Rustin
Published by
RB Media
on April 19, 2022
Source:
NetGalley
Genres:
Mystery
Length:
10hrs 15 mins
Pages:
304
Format:
Audiobook
Purchase at
Bookshop.org
or
Audible
Add on
Goodreads
Friday Night Lights meets Mare of Easttown in this small-town mystery about an unlikely private investigator searching for a missing waitress. Pay Dirt Road is the mesmerizing debut from the 2019 Tony Hillerman Prize recipient Samantha Jayne Allen...

Annie McIntyre has a love/hate relationship with Garnett, Texas. Recently graduated from college and home waitressing, lacking not in ambition but certainly in direction, Annie is lured into the family business - a private investigation firm - by her supposed-to-be-retired grandfather, Leroy, despite the rest of the clan's misgivings. When a waitress at the café goes missing, Annie and Leroy begin an investigation that leads them down rural routes and haunted byways, to noxious-smelling oil fields and to the glowing neon of local honky-tonks.

As Annie works to uncover the truth she finds herself identifying with the victim in increasing, unsettling ways, and realizes she must confront her own past - failed romances, a disturbing experience she'd rather forget, and the trick mirror of nostalgia itself - if she wants to survive this homecoming.
Annie is back home after college, waitressing at the local diner and hanging out with her cousin and people she knew in high school. Her family is well known in town. Her grandfather used to be the sheriff, but now he owns a private investigation firm, run mostly by his partner, and drinks too much. When another waitress, Victoria, goes missing and is later found murdered, Annie is pulled in, needing to find the truth, and gets her grandfather involved too.
Pay Dirt Road has a good sense of place. It's small-town Texas where land matters, where it's hard to keep secrets, where people without papers are afraid of the cops. It's a place where high school football carries a town's pride and the VFW turns into a honky tonk on Thursdays. It's a place Annie both loves and hates.
Pay Dirt Road is a pretty standard mystery and Annie's not a great investigator. She shouldn't be. She's in her early twenties and someone she knows is probably a killer. The story is told from her point of view and she reflects on events in her past as she learns more about Victoria and the crime. I liked Annie, but she annoyed me too, which is fine.
The book doesn't move at a quick pace, it takes time to dwell and dance and smell the hot cement, but there are definitely tense moments too. The whodunnit was a bit predictable, but we do get enough suspects to make me second-guess myself. It touches on the threats young women face and the expectations others have for them, without lingering or finding a solution.
I listened to the audiobook, which was a good choice. The narrator did an excellent job with Annie's voice, conveying her stubbornness and uncertainty. The other characters were easy to differentiate. I forgot there was a narrator if that makes sense.
Pay Dirt Road was a good solid read. I'll be looking forward to the author's next book.