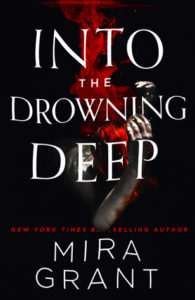 Into the Drowning Deep
by
Mira Grant
Narrator:
Christine Lakin
Series:
Rolling in the Deep #1
Published by
Hachette Audio
on November 14, 2017
Source:
Purchased
Genres:
Horror
,
Science Fiction
Length:
17 hrs 15 mins
Pages:
486
Format:
Audiobook
Purchase at
Bookshop.org
or
Audible
Add on
Goodreads
The ocean is home to many myths,
But some are deadly...

Seven years ago the Atargatis set off on a voyage to the Mariana Trench to film a mockumentary bringing to life ancient sea creatures of legend. It was lost at sea with all hands. Some have called it a hoax; others have called it a tragedy.

Now a new crew has been assembled. But this time they're not out to entertain. Some seek to validate their life's work. Some seek the greatest hunt of all. Some seek the truth. But for the ambitious young scientist Victoria Stewart this is a voyage to uncover the fate of the sister she lost.

Whatever the truth may be, it will only be found below the waves.

But the secrets of the deep come with a price.
Seven years ago a ship, the Atargatis, sailed to the Mariana Trench looking for mermaids. Imagine Network planned to make a huge amount of money off the planned mockumentary. Instead, the entire crew was lost at sea and only raw video footage to show what happened. They had found mermaids – and mermaids are not friendly.
Now, the entertainment company is planning a second voyage. A film crew and a large group of diverse scientists are going back to find out what happened and to prove mermaids exist. Diverse in disciplines – marine biologists, cetologists, chemical biologists, cryptid hunters, and diverse in backstories – sexual orientations, disabilities, financial resources, and cultural backgrounds. Some of the scientists have personal reasons for going, like Tory whose sister died on the Atargatis and Dr. Toth whose life's work has been centered on Sirens. Others are approaching it as a cruise where they get to do their own research, not believing in the mermaids.
I really enjoyed this book! It was one of those that I had to talk about, even if no one I know in real life has read it. It's a monster story, tense, gory at times, but it's also full of science and amazing characters. It's about how far we'll go for "entertainment" and the need for ratings. It's about how money can influence the tracks science takes and about humanity's selfishness. It's about grief and community and survival.
And it's about mermaids who are smart and scary and vicious and will try to kill you.
I listened to the audiobook. There were a lot of characters, but the narrator did a good job distinguishing them. I think listening to the audio made some of the slower portions go by quicker for me. It's tense and gripping, but not action-filled, at least in the beginning.
Reading this book contributed to these challenges: