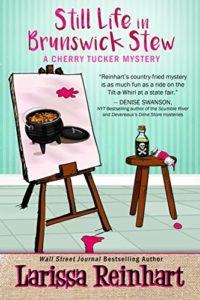 Sill Life in Brunswick Stew
by
Larissa Reinhart
Narrator:
Erin Clark
Series:
Cherry Tucker Mystery #2
Published by
Audible Studios
on October 18, 2013
Genres:
Cozy Mystery
Length:
11 hrs 26 mins
Pages:
310
Format:
Audiobook
Purchase at
Amazon
or
Audible
Add on
Goodreads
Cherry Tucker's in a stew. Art commissions dried up after her nemesis became president of the County Arts Council. Desperate and broke, Cherry and her friend, Eloise, spend a sultry summer weekend hawking their art at the Sidewinder Annual Brunswick Stew Cook-Off. When a bad case of food poisoning breaks out and Eloise dies, the police brush off her death as accidental. However, Cherry suspects someone spiked the stew and killed her friend.

Caught between helping Eloise's family and an ongoing investigation, Cherry finds herself in hot water with her deputy boyfriend, who doesn't appreciate her style of sleuthing. As Cherry calls on cook-off competitors, bitter rivals, and crooked judges, her love life steams. Meanwhile, the killer prepares to cook Cherry's goose.
First, I have to admit I had no idea what Brunswick Stew is. Apparently, it's a Southern dish, a tomato-based stew filled with local beans, vegetables, and originally small game meat such as squirrel or rabbit, though today often chicken or smoked pork. The Brunswick Stew Cook-Off is a major draw at the annual festival in Sidewinder, Georgia where Cherry, a painter, and her friend Eloise Parker, who makes Raku pottery, have set up an art booth. It's not a good day. A bunch of people end up with food poisoning and it kills Eloise. Cherry, of course, is convinced it wasn't an accident and is determined to figure out who killed Eloise.
The mystery is not the strongest part of the book. I guessed who the killer was fairly early, but really didn't care so much. The characters and the small-town antics are what drives the book. Cherry is a mess, but likable. She's broke, her love life's a disaster, her truck is falling apart, and she has a big mouth that gets her in plenty of trouble. She's also loyal and caring and not afraid of a fight. She's surrounded by family, friends, an ex-husband, the standard cop boyfriend, and a stubborn goat. Add in a crooked bingo game, a rival artist, and a potential gallery exhibit and Cherry has a lot to handle. And I can't say that she does it with grace and competence. She does not. She gets punched, flashes the church crowd, and ends up kissing her ex.
Still Life in Brunswick Stew is a lot of fun and had me laughing out loud. It can be a bit over the top but that's part of its charm.
Reading this book contributed to these challenges: