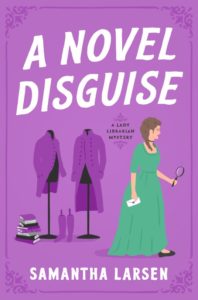 A Novel Disguise
by
Samantha Larsen
Narrator:
Marni Penning
Series:
Lady Librarian Mysteries #1
Published by
Dreamscape Media
on May 16, 2023
Source:
NetGalley
Genres:
Cozy Mystery
,
Historical Mystery
Length:
9 hrs 20 mins
Pages:
320
Format:
Audiobook
Purchase at
Bookshop.org
or
Audible
Add on
Goodreads
When Miss Tiffany Woodall assumes the identity of her half-brother after his death, she realizes she isn't the only one with a secret to hide in this historical series debut, perfect for fans of Deanna Raybourn and Sherry Thomas.

1784 London. Miss Tiffany Woodall didn't murder her half-brother, but she did bury him in the back garden so that she could keep her cottage. Now, the confirmed spinster has to pretend to be Uriah and fulfill his duties as the Duke of Beaufort's librarian while searching Astwell Palace for Uriah's missing diamond pin, the only thing of value they own. Her ruse is almost up when she is discovered by Mr. Samir Lathrop, the local bookseller, who tries to save her from drowning while she's actually just washing up in a lake after burying her brother.

Her plan is going by the book, until the rector proposes marriage and she starts to develop feelings for Mr. Lathrop. But when her childhood friend, Tess, comes to visit, Tiffany quickly realizes her secret isn't the only one hidden within these walls. The body of a servant is found, along with a collection of stolen items, and someone else grows mysteriously ill. Can Tiffany solve these mysteries without her own disguise being discovered? If not, she'll lose her cottage and possibly her life.
When Tiffany's half-brother dies unexpectedly, she buries him in the garden and then assumes his identity. She sees it as the only way to keep her cottage and money. As a spinster in 1780s England, she has few options. Of course, being two people is quite complicated. When a servant at the palace is found poisoned, a death that looks very similar to her brother's, Tiffany realizes she might be in danger.
Tiffany is a great main character. She's determined and funny and loves reading novels, which she was never allowed to do before. She's also very aware of society's inequalities and determined to help when she can.
A Novel Disguise is a nice mix of romantic comedy, because of course Tiffany has a love interest and of course hijinks ensue, and murder mystery. It's also very well-researched without showing it off. The details of daily life for both the aristocracy and servants are fit in well. It also shows us a bit how the justice system worked and the prejudices of the era. The mystery, once it got started, had plenty of suspects, clues, and red herrings. The characters are an appropriately quirky group.
I listened to the audio version which was well done. The book is told from Tiffany's point of view and the narrator captured her voice well. I'm looking forward to Tiffany's next adventure.
Reading this book contributed to these challenges: