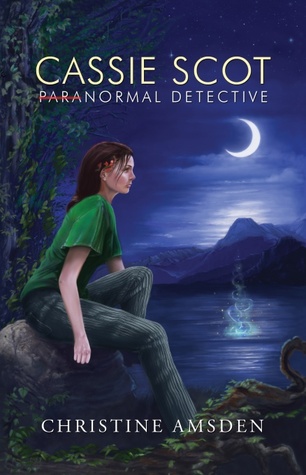 Title: Cassie Scot: Paranormal Detective (Cassie
Scot #1)
Author: Christine Amsden
Category: Paranormal Mystery
Published: May 15, 2013 by Twilight Times
Rating: 4 out of 5 stars
Add: Goodreads
Purchase: Amazon | IndieBound | Book Depository
Cassie Scot is the ungifted daughter of powerful sorcerers, born between worlds but belonging to neither. At 21, all she wants is to find a place for herself, but earning a living as a private investigator in the shadow of her family's reputation isn't easy. When she is pulled into a paranormal investigation, and tempted by a powerful and handsome sorcerer, she will have to decide where she truly belongs.
Cassie Scot is a good mystery with a paranormal twist, but to be honest Cassie herself is what sold me on the book.
Setting: Eagle Rock is an interesting town full of regular folks and magical folks. The magic is not in the open but it's kind of one of those known secrets. People suspect and respect the magical families but never actually accuse them of anything, probably because how do you accuse someone of being a sorcerer? The town lies near Table Rock Lake and underneath that lake is a node, a concentration of energies that sorcerers can tap into, which accounts for the unusually large number of practitioners in the area.
Main Character: Cassie  is the star of the story and the reason I enjoyed it. She's real, well if the only non-magical child in a family of sorcerers can seem real. She's struggling with gaining her independence and needing her family's support, love, and, let's be honest, protection in a town where magic can, and usually does, rule. She's smart and funny and I liked her. I'd like to be her friend. She's loyal, perhaps to a fault, and tenacious, even when the odds are against her.
Cassie has the advantage of understanding the reality of magic but also it's limitations. She's knows the magical families in town, their "gifts" and tendencies. Although not having any magic ability of her own leaves her a little vulnerable, she deals with it well. She even knows better than to wear a short skirt and heels when heading out to fight a vampire.
Her love interest, Ethan, is probably one of the most powerful sorcerers in town. He's the one that drags her into the investigation. It starts with his cousin being killed, but quickly spirals when a local sorceress is found dead and changed into a vampire, something that should have been impossible. It's dangerous when magic's flying, vampires are stalking you, and your crush has the "kiss of death"  (not actually as bad as it sounds).
Plot: I was worried the paranormal aspects of the book would overwhelm the mystery, but it was fairly well-balanced. The story moves along quickly and there are clues but I didn't put it all together.
Romance: Ethan and Cassie have known each other since elementary school and they work together well. He respects her and doesn't force her to do what he wants her to, and he doesn't expect her to stay safe at home. He knows she needs to be part of the action. I liked them as a couple, I could feel the attraction, but then the last chapter left me uneasy, uncomfortable. Hopefully my issue will be resolved in the next in the series.
Recommendation: Cassie Scot may lean a little to the YA side, but I really enjoyed it. It's light, fun, a good summer read for me.
Cassie Scot Series
Cassie Scot: Paranormal Detective
Secrets and Lies (expected September 2013)
Pump Up Your Book and Christine Amsden are teaming up to give you a chance to win a new Kindle Fire HD!
ENTER TO WIN!
————————————————————
Cassie Scot: ParaNormal Detective Virtual Book Publicity Tour Schedule
Monday, May 13 – Book reviewed at Sara's Organized Chaos
Tuesday, May 14 – Book trailer reveal at Margay Leah Justice
Wednesday, May 15 – Book spotlight at The Busy Mom's Daily
Thursday, May 16 – Character interview at Laurie's Thoughts and Reviews
Friday, May 17 – Book reviewed at By the Broomstick
Monday, May 20 – Interviewed at Review From Here
Tuesday, May 21 – First chapter reveal at Offbeat Vagabond
Wednesday, May 22 – Book reviewed at Offbeat Vagabond
Thursday, May 23 – Guest blogging at You Gotta Read
Monday, May 27 – Book reviewed at My Cozie Corner
Thursday, May 30 – Guest blogging at Miki's Hope
Monday, June 3 – Guest blogging at Janna Shay
Tuesday, June 4 – Guest blogging at The Book Connection
Thursday, June 6 – Book reviewed at Miki's Hope
Monday, June 10 – Interviewed at From the TBR Pile
Tuesday, June 11 – First chapter reveal at By the Broomstick
Wednesday, June 12 – Book reviewed at Waiting on Sunday to Drown
Thursday, June 13 – First chapter reveal at Butterfly-o-Meter Books
Friday, June 14 – Interviewed at Literal Exposure
Monday, June 17 – Book reviewed at Carol's Notebook
Wednesday, June 19- First chapter reveal at Inside BJ's Head
Thursday, June 20 – Book reviewed at Quilted Reviews
Friday, June 21 – First chapter reveal at Literary Winner
Monday, June 24 – Interviewed at The Writer's Life
Tuesday, June 25 – Guest blogging at Janna Shay
Wednesday, June 26 – Book reviewed at From the TBR Pile
Thursday, June 27 – First chapter reveal at As the Pages Turn
Friday, June 28 – Interviewed at American Chronicle
Wednesday, July 3 – Book trailer reveal at Pump Up Your Book
Friday, July 5 – Book reviewed at Inside BJ's Head
Monday, July 8 – 5 Things at Literarily Speaking
Thursday, July 11 – Book reviewed at Mary's Cup of Tea
Friday, July 12 – Interviewed at Digital Journal
Monday, July 15 – Interviewed at Broowaha
Friday, July 19 – Book featured at By the Broomstick
Monday, July 22 – Book featured at Book Marketing Buzz
Tuesday, July 23 – Interviewed at Examiner
Wednesday, July 24 – Book reviewed at Naturally Kim B
Thursday, July 25 – Book reviewed at Review From Here
Friday, July 26 – Interviewed at Pump Up Your Book