Ryan listed a bunch of movie monsters the other day including the rabbits from Night of the Lepus, which is what reminded me of this game.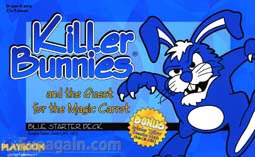 Killer Bunnies
Designer: Jeffrey Neil Bellinger
Manufacturer: Playroom Entertainment
Artist: Jonathan Young
Year: 2002
Players: 2 – 8
Ages: 12 and up
Description:
Killer Bunnies is a fast paced, action filled card game, in which you must try to keep as many Bunnies alive as possible, while eliminating your opponents' Bunnies.
The problem: Your opponents are armed with weapons and will stop at nothing to keep you from winning the game, which can get dreadfully vengeful, horribly nasty, hilariously messy, and just plain fun!
Can you keep from being attacked by the whimsical Whisk or the torching Flame Thrower?
Defend your Bunnies with the Magic Spatula, or use a Feed The Bunny card to starve out an opponent! It's off-the-wall strategic fun, where the goal is to survive and claim the Magic Carrot to win the game!
My thoughts:
We haven't played this one in a while. One of our friends took it home with him, to try to even out the deck a little and hasn't brought it back yet. It always seems like there are just never enough bunnies to use all the cool weapons, which is what our friend was going to try to adjust. The theme is a lot of fun, though, and there are a batch of expansion decks in various colors.