I received a couple of awards recently that I want to thank folks for.
Freda, of Freda's Voice, was kind enough to pass on the One Lovely Blog Award. Thanks! Here are the rules.  Accept the award, post it on your blog together with the name of the person who has granted the award, and his or her blog link. Pass the award to up to 15 other blogs that you've newly discovered. Remember to contact the bloggers to let them know they have been chosen for this award.
I'm passing this on to some of the blogs I've recently "discovered." I realize they've been around a while, but they're new to me. Take a minute and visit them.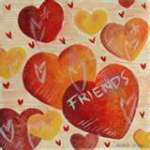 Jeane, from DogEar Diary, was kind enough to pass on the Let's Be Friends award. Thanks!
"Blogs that receive the Let's Be Friends Award are exceedingly charming. These kind bloggers aim to find and be friends. They are not interested in self-aggrandizement. Our hope is that when the ribbons of these prizes are cut, even more friendships are propagated. Please give more attention to these writers. Deliver this award to eight bloggers."
It's hard to pass this on to only eight people.  I am always amazed at how kind, generous and friendly bloggers can be.