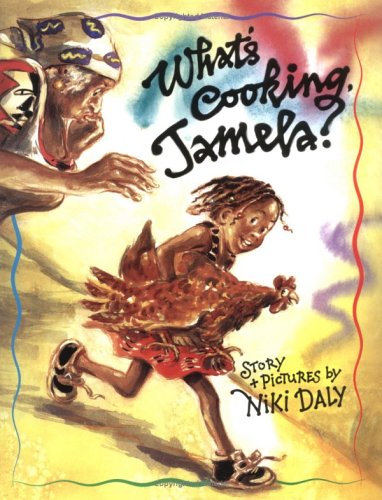 What's Cooking, Jamela? by Niki Daly
(Suggested reading level: Ages 4-8)
Usually, when I think of Christmas stories, I think of re-tellings of the first Christmas.  Or I think of snow and pine trees, cold weather and hot chocolate. Basically, I tend to read Christmas stories that are similar to my Christmases.
What's Cooking, Jamela? however, takes place in modern South Africa—no snow for sure, but lots of love. Jamela's mama and grandmother make plans for Christmas, including buying a chicken to fatten up for dinner.  Jamela feeds the chicken, who she names Christmas, water and corn everyday. It even eats food from her hand. As Christmas gets closer, Jamela and the other kids put on a nativity play at school, complete with traditional clothing and instruments. On the day before Christmas, before the chicken can be killed, Jamela tries to help it escape, but it ends up running through town, causing havoc.
"Christmas in not a chicken," cried Jamela. "Christmas is my friend. And you can't eat friends."
Needless to say, on Christmas day Mama makes a delicious meal, chicken-free.
Jamela is an adorable girl, full of fun and spirit. And it's obvious how much her family loves her and the townspeople think she's adorable. The colorful illustrations show South Africa as happy and sunny, a place where even in a small backyard you can raise a chicken or grow squash. I also liked how Daly included words in the text like mielies, the Afrikaans word for corn, and aikona, which the glossary in the back defines as Xhosa and Zulu for No!
On one hand, this story shows how Christmas is celebrated by another culture in another place. But it also shows that no matter  where you are Christmas is
a time to celebrate baby Jesus' birthday with a nativity play at school. Christmas also meant Christmas presents and getting together with the family.
My copy was borrowed from the library and the above is my honest opinion. I am an Amazon associate.