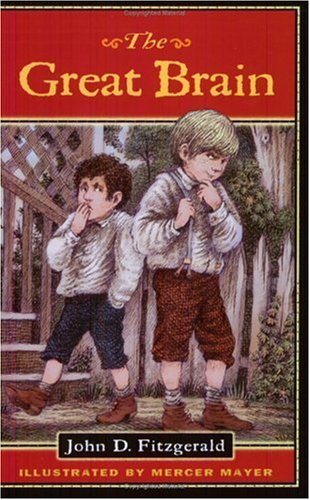 The Great Brain by John D. Fitzgerald, illustrated by Mercer Mayer
(Suggested reading level: Ages 9-12)
Amber (9) and I read this together. It was first published in 1967 and set in Utah in 1896, but if Amber's any example, today's kids will still find plenty to enjoy.
The Great Brain is Tom D. Fitzgerald and the story is told by J.D., his admiring younger brother. Tom is an expert at making money from his friends, but he does help a lot of people along the way, even if his motives are not entirely unselfish. Each chapter is like a mini-adventure. Tom gets a mean teacher fired and then rehired, finds two kids lost in a cave, helps a Greek immigrant boy fit in, saves a friend from committing suicide by teaching him that he's not useless even after the lower part of his leg is amputated. Tom really is a brilliant kid, and it's a fun book. As soon as it was over, Amber asked if there were more in the series, which there is.
A couple of comments. The word "jackass" was used a few times, and Amber asked that I rephrase it. Also, one of their neighbors, who is Jewish, starves to death, which does teach a good lesson of watching out for those around you, even if they are different in some way, but the boys' father says it would never have happened in this mostly Mormon town if the man hadn't been a Jew. Tom and his family are Catholic, by the way, but religion itself doesn't come up often.
Tom and his friends are sneaky, get away with a lot of things, are not the best role models, but that's not what kids are looking for in a story. It's fun and the boys do learn several good lessons along the way, like watching out for each other. They may get some black eyes in the process but they're boys and, no matter how politically correct we want to be, boys will be boys.
Overall, this was great read about a culture and time period that isn't portrayed often in kids books now, it seems. The kids don't watch TV, they play outside, do a lot of chores, attend school in a one room schoolhouse until they're old enough to quit or go to a boarding school in Salt Lake City. I think the differences are part of what makes it exciting. For Amber, it's peeking into a childhood totally different from the one she knows, more adventurous, more exciting in a way.
Challenges: 100+, A to Z, Shelf Discovery
Our copy was borrowed from the library and the above is my honest opinion. I am an Amazon associate.