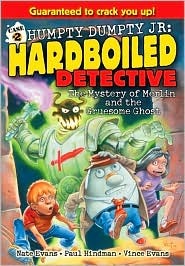 The Mystery of Merlin and the Gruesome Ghost by Nate Evans, Paul Hindman and Vince Evans
(Suggested reading level: Grades 3-5)
Amber (10) and I read this follow-up to The Case of the Fiendish Flapjack Flop together. It's a fun little read, although the abundance of Merlin/King Arthur mythology in various books, TV shows and movies is getting confusing, since each story takes it's own spin. Amber kept wanting to correct the book, and I kept saying it's not the TV show. I'm actually reading a book right now that uses the Arthur, Camelot story with a unique twist. My review on it should be up tomorrow.
Humpty Dumpty, Jr. is on the case again, along with his side-kick, Rat, investigating a ghost at Merlin's Institute for the Knowledge of Everything. Merlin isn't the client, though, a cute girl who calls herself Princess Lily is, and Merlin doesn't like the interference at his school. Well, he doesn't like Dumpty's presence. Rat he's happy to have, since he thinks Rat might be the one to pull Excalibur from the stone once again.
Merlin waved his hand dramatically toward Excalibur: "Draw the sword, lad. It calls you."

Merlin loomed over Rat, a madman's glimmer lighting his face. (pg. 24)
The plot takes some interesting turns, and the book's full of fun characters and amusing situations. It had Amber laughing out loud several times, and it has its share of "gross" moments that kids seem to love. The illustrations are cute, too, and definitely add to the story. I don't want to give away the ending, but you'll see it coming fairly early on.
Published 2008 by Sourcebooks Jabberwocky
Humpty Dumpty Jr: Hardboiled Detective #2
120 pages
Challenges: 100+, A to Z

My copy was received through a giveaway and the above is my honest opinion. I am an Amazon associate.