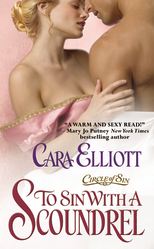 To Sin With A Scoundrel by Cara Elliott
I have to admit that I love a good Regency romance. A dashing hero, the woman who is too independent or intelligent for her times, a little sex and danger thrown in and you've got me hooked.
Ciara is a widow whose knowledge of herbs has led to some speculation that her husband's unfortunate death was actually due to poison. Of course, that's not true, but her dead husband's family, eager to get their hands on a fortune, encourage the gossip. What she needs is a man in her corner, a man with connections in Society who can offer her some protection from the malicious slander.
Enter the Lucas, the Earl of Hadley. His reputation as a rogue and womanizer has been well-earned, but he's an intelligent man who is becoming disillusioned with his life of "pleasure." He also has a favor he needs Ciara's help with, an ancient manuscript his uncle needs translated, so they make an arrangement that will benefit each of them.
Sparks are bound to fly between these two wonderful characters. The dialogue is fun and witty and they are a perfect match. Both have a lot they can learn from the other.
Was it wrong to seize a moment of pleasure?

Ciara wasn't sure she knew the answer. Far more learned minds than hers had wrestled with the philosophical question. (pg. 242)
The Wicked Witch of Pont Street.

Most men were afraid of a woman with brains. While he found her intellect and accomplishments inspiring. Exciting. Enchanting. Amazing. (pg. 277)
I enjoyed this delightful, steamy romance. Hadley and Ciara's banter is perfect and their attraction is undeniable. But, like I said, I'm a sucker for light historical romances. It's so much fun getting to the Happily Ever After ending.
In the mood for a romantic read? I've got five copies of To Sin with a Scoundrel to giveaway. To enter, just leave a comment below by April 1. Open to the US and Canada only, no PO boxes, and you need to be 18+. I'll post the winners on April 2.
Published March 1, 2010 by Forever
Circle of Sin #1
349 pages
Challenges: 100+, A to Z, Romance

My copy was provided by the publisher and the above is our honest opinion. I am an Amazon associate.