The other day we ate at Scaffidi's, a local Italian restaurant. It's actually one of Amber's favorite spots; in her opinion, they have the best gnocchi anywhere. It's a cute little place, only 8 tables, but they do offer carryout. The menu is not overly extensive, but the pasta's homemade and everything I have had has been delicious. Just a note, though, as far as I know they don't serve beer or wine, which is a little unusual.
We were actually lucky to get seated as soon as we walked in. I guess they're moving later this year, to the old Lenore's building for any of you who are local, so hopefully they'll have more space then.
They serve bread and butter, and David had a really nice, fresh salad, but I'm going to skip straight to our entrees, since that's the part I consider most important. Amber had the gnocchi of course, but she just gets it plain, only butter, not even any cheese, which just doesn't make a good picture. She says it's delicious though, and I have to believe her, since she does order gnocchi at different places and definitely thinks some are better than others.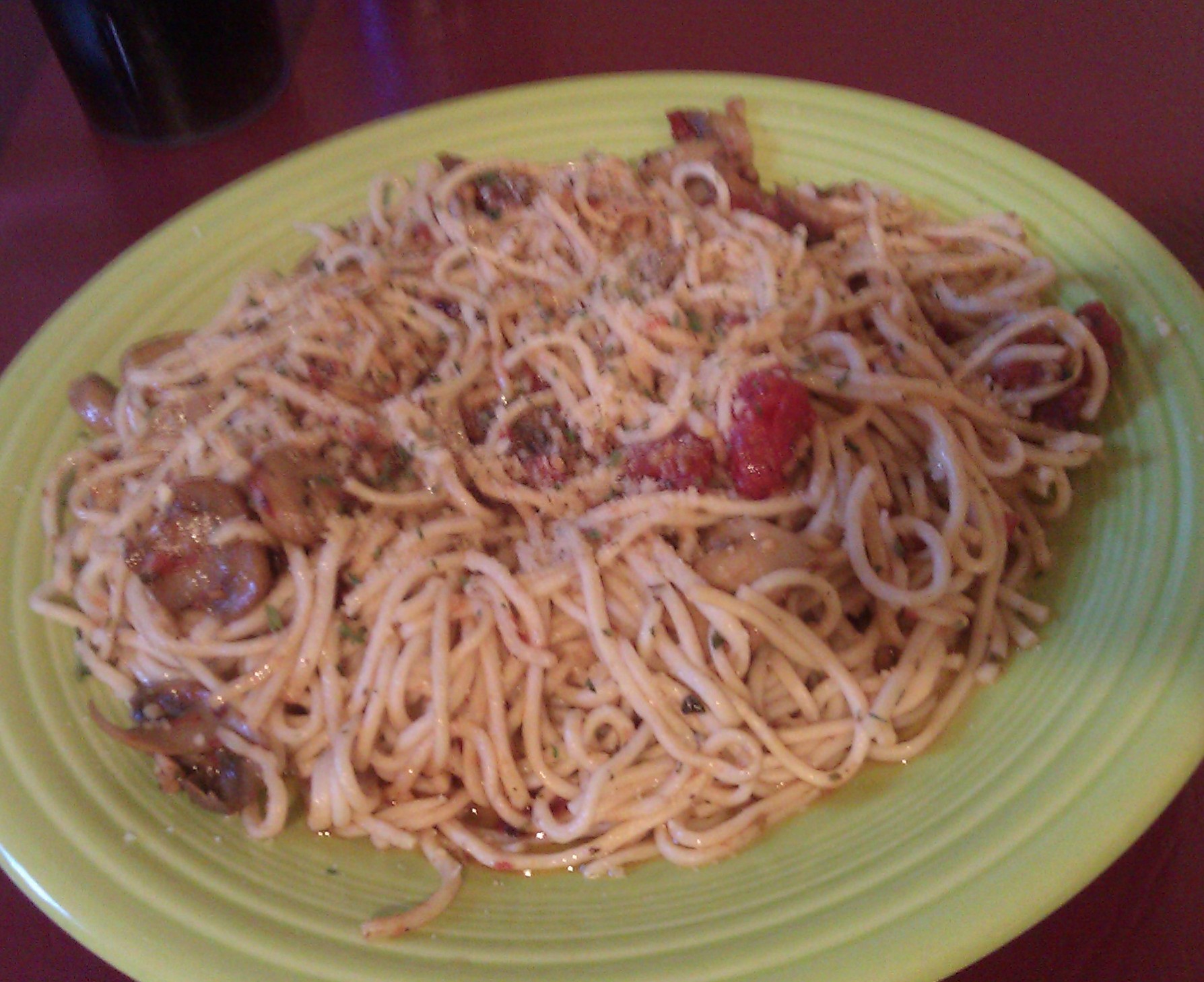 I'm not sure what the dish David had was called. It was a fettucini in a creamy sauce with pesto and several cheeses. I think he ordered it last time we went to, I think the cheeses grab his attention. He ate it all us, so it must have been good.
I had the Messina, spaghetti with aglio oilio and topped with mushrooms, tomatoes and Parmesan. Delicious! Maybe a little too much of the oil, but I devoured the pasta, and then sopped up the leftovers with bread. Have I ever mentioned that I love Italian food? I've had the spaghetti with marinara too, which was yummy.
Of course, we had to have dessert. Tiramisu for David, cannoli for Amber and me. By the time we left, I was stuffed.
If you happen to be in our neck of the woods and craving Italian, you have lots of options, but Scaffidi's has a menu that's a little unique compared to the others. Give it a try and tell me what you think.
(Thanks, David, for taking the photos.)