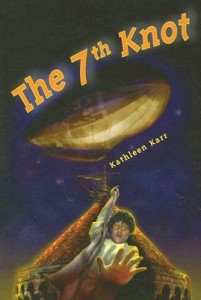 The 7th Knot by Kathleen Karr is a historical adventure for the middle school crowd. The year is 1896. Miles, 12, and his brother Wick, 15, are forced by their parents to spend the summer vacation with their grumpy Uncle Eustace on his "invasion" of Europe, a trip to buy the artwork of the great masters and bring it back to his mansion. What sounds like an incredibly boring time turns into a perilous journey when Uncle Eustace's servant disappears. The boys head across Italy and Germany on a search for the man and for Albrecht Durër's woodcuts. Throw in a secret society, international conspiracy and flying machines, and the boys have to use their wits and hope for a little luck to get out alive.
This one was kind of up and down. Parts were a little slow but then the action would pick up and I'd be pulled back into the story. And there was a lot of action when it was moving. The boys are  smart and inventive and take it upon themselves to find the missing valet. Of course, they also want to find the woodcuts. The conspiracy they stumble upon is pretty dangerous though, and they have several close calls. I especially enjoyed the airship scenes, I think they highlight both the boys skills and their ability to work together.
I also like that references to art. Who knows, it may spark an interest in someone. I, for one, had never heard of Durër before so had to do a little research, just out of curiosity.
The end, though, was simply to abrupt. I read this aloud with Amber and she made some comment like, "Is that is?" Even David, who was only half listening, thought the ending was odd.
I didn't love it, but I didn't hate it either. I think Amber enjoyed it overall more than I did.
On a side note, I wasn't too fond of the boys almost constant drinking, smoking and talk of gambling. I know they were in Europe and the time period is different, but I could have done without it. I did like the way the boys responded to the paintings nudes. It seemed like how boys that age would truly think.
3 out of 5 stars
Category: Action & Adventure – Historical
Agatha Award 2003 (Best Children's/Young Adult Novel)
First published 2003
149 pages
Book source: Gift