I am thrilled to be a giver tonight for World Book Night. It's an opportunity to spred the joy and love of reading, to entice people to get lost in a different world. I'll be giving out 20 copies of The Book Thief by Markus Zusak in my town. It's an an edition specially printed for this occasion.
I chose this book because it's a story I truly loved. Narrated by Death, it's a touching, moving story with vivid images. It was originally published as a young adult book, but I think everyone, ages 12 to 100 will be captivated by it.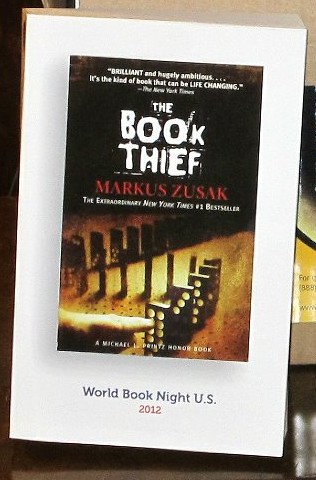 Set during World War II in Germany, Markus Zusak's groundbreaking novel is the story of Liesel Meminger, a foster girl living outside of Munich. Liesel scratches out a meager existence for herself by stealing when she encounters something she can't resist – books. With the help of her accordion-playing foster father, she learns to read and shares her stolen books with her neighbors during bombing raids as well as with the Jewish man hidden in her basement before he is marched to Dachau.

This is an unforgettable story about the ability of books to feed the soul.
The weather is not cooperating with my plans though. We have had such gorgeous days lately, I was planning on heading out to the local park to hand out books, but today it's cold and rainy, so I'll have to head somewhere else.