No, not those unmentionables. Unmentionables as in people with special gifts, superhuman abilities, like Diesel and Lizzie in Janet Evanovich's Wicked Appetite.
I'm not a fan of Evanovich's Stephanie Plum series, even though I always feel like I should be. Something about it just rubs me the wrong way. I don't know if it's Stephanie herself or the feeling that Evanovich is just trying too hard. But that means that I've only read a couple of Plum novels, and none of the in-between ones, so this is my first meeting with Diesel. Those more familiar with her work will I'm sure recognize the name and alread know that he's just downright sexy, and a little dangerous. I do like her earlier romances though, which is why I decided to give Wicked Appetite a try. And it was an audio available at my library when I needed a new one to listen to.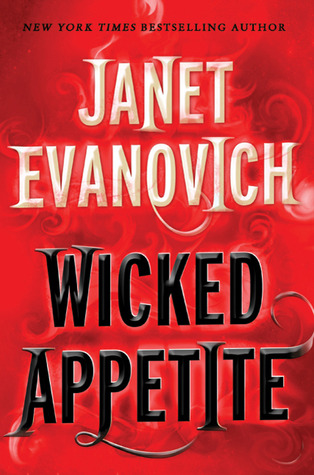 Lizzy Tucker is a cupcake baker, who makes amazing goodies. You might even say she has a gift for it. Her life is non-exciting. She lives in an old house in Marblehead, but works at a bakery in Salem, of sitch trial fame. As a side-note, I like reading about a tourist attraction town from the locals point of view. Anyway, into her predictable life bursts charming Diesel, who has all sorts of special abilities, some of which I can only imagine. And boy does he have a story. Rumor has it that a collection of priceless ancient relics representing the Seven Deadly Sins have made their way to Boston's North Shore, and wouldn't you know it that one of Lizzie's other gifts is being able to feel magic in objects. So off Lizzie and Diesel go, tracking down the first of the relics, the gluttony stone, but they're in a race with Diesel's criminal mastermind cousin Gerewulf Grimorie. "Caught in a race against time, Diesel and Lizzie soon find out that more isn't always better, as they battle Wulf and the first of the deadly sins."
I closed my eyes and slumped back in the seat." Can we review what's happened here? In the interest of saving the world from a hellish future, we've got some poor woman talking nonsense, we've blown a man's house to smithereens, and now we've totally trashed another man's apartment. And if that's not enough, we've acquired a cat with one eye, and a monkey."

Diesel looked at me." Your point."

I blew out a sigh "I don't have a point. My life is out of control. Everything was looking so good a couple days ago, with my own house and a terrific job. And now everything is facaca."

"Your life isn't out of control," Diesel said, "It's expanded."
I really enjoyed it. It was a light story, a fun one to listen to. There's hijinks, a nut job with a sword, a monkey who tends to give everyone he meets the finger, a wannabe witch, and did I mention the cupcakes. Diesel and Lizzie are great together, with the typical attraction and arguing. The dialogue is witty and the book had me laughing out loud, which probably made me seem nuts to peope passing me while I was out walking the dog. What more could I ask?
4 out of 5 stars
Category: Romance – Paranormal
Amazon | IndieBound | Website | Facebook | Twitter
Lizzy and Diesel #1
Published September 14, 2010
6 hours 13 minutes
Narrated by Lorelei King
The A to Z Challenge is hosted at its own blog.
Book soure: Library
Lizzy and Diesel Series
Wicked Business (due out June 19, 2012)