So, here are my steps for the week. It's interesting that Monday, Wednesday and Friday are the days I work 9-5, at my desk all day. And it's been too cold to take the dog for a walk on lunch hour. I need to find a way to move more on those days. Suggestions?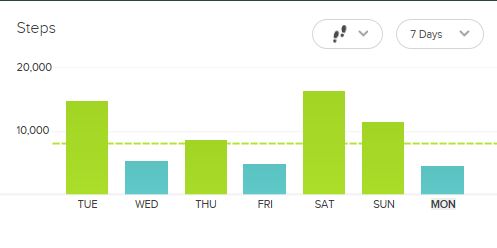 And here's my current workout plan. I just finished week 2. I wish it were nicer out, I much prefer running outside; the treadmill is so boring.
Tuesday – Took the dog for a mile walk. Ran 2 miles on the treadmill. Did 30 minutes on the arm and ab machines.
Wednesday – Did this workout from Self using a 10-lb plate and did reps instead of time to make it 30 mins.
Thursday – Did 30 minutes on the elliptical, going just over 2.5 miles
Saturday – Ran 3 miles on the treadmill. (It was snowy Friday and supposed to snow Sunday, so I decided to go with the longer run, thinking I would only be out the once.)
Sunday –  30 minutes on the elliptical, 2.5 miles, and about 20 minutes of ab work. (It didn't snow much after all.)
How has your week been?
Readers' Workouts is hosted by Joy at Joy's Book Blog. Thanks