Welcome to my final post in the A to Z Blogging Challenge. Each day, I've been sharing the opening paragraphs to a book that starts with that letter and is sitting on my shelves or my Kindle.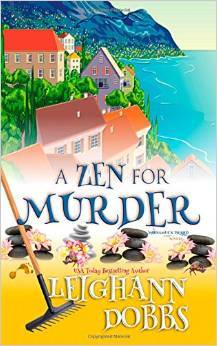 A Zen for Murder by Leighann Dobbs

Claire Watkins tossed a dead rose stem from her spacious garden into the small wheelbarrow just as the sun made its appearance, splashing the blue Atlantic Ocean with a wash of pink.

Sunrise was her favorite time of day. It was quiet. Peaceful. To her, the hours before her little town of Crab Cove on Mooseamuck Island, Maine, woke up and the hub-bub of tourist and local activity started were the most precious hours of the day.

Stretching, she winced at the slight pull in the muscles in her lower back and the popping sounds that crackled from her spine. Even so, Claire felt grateful that she enjoyed relatively good health for her seventy years, which she attributed to the strict natural health regimen she'd adopted in the past decade.
So, what do you think? Read it soon or give it a pass?