Here are my steps for the week. I didn't make my goal of 9,000 steps a day. I was so close on Sunday and Monday – I should have just took a quick walk down the road. If you're on fitbit, you can find me here.
I earned a badge this week.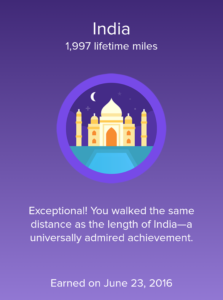 My current plan is to do cardio on Tuesday (60 mins), upper body on Wednesday, cardio on Thursday (60 mins), a total body workout on Friday, cardio on Saturday (60+ mins), and a core workout on Monday. I'm also doing a 10 minute-ish Pilates workout each day. I did not do so well this week, but hopefully I'll get back on track.
Wednesday – 20 min arms/shoulders. 10 minutes Pilates booty.
Thursday – 65 mins elliptical. Walk with the dog.
Saturday – Walk with the dog.
Monday – Walk with with the dog. 35 mins Pilates.
I usually listen to a book while I'm walking, jogging, whatever. This week I'm still listening to The Sudden Appearance of Hope by Claire North.
I sit at a desk all day at work. I found this video a couple of days ago and have been trying to incorporate some of the exercises on a daily basis.
2016 miles: 238.5
How was your week? Readers' Workouts is hosted by Joy at Joy's Book Blog.