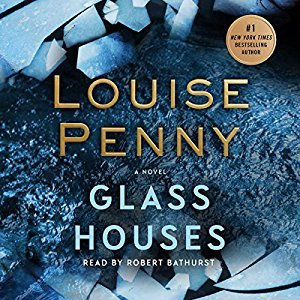 Glass Houses
by
Louise Penny
Narrator:
Robert Bathurst
Series:
Inspector Gamache #13
Published by
Macmillan Audio
on August 29, 2017
Source:
Purchased
Genres:
Mystery
Length:
13 hrs 23 mins
Format:
Audiobook
Purchase at
Bookshop.org
or Purchase at
Amazon
Add on
Goodreads
When a mysterious figure appears on the village green on a cold November day in Three Pines, Armand Gamache, now Chief Superintendent of the Sûreté du Québec, knows something is seriously wrong. Yet he does nothing. Legally, what can he do? Only watch and wait. And hope his mounting fears are not realized.

From the moment its shadow falls over Three Pines, Gamache suspects the creature has deep roots and a dark purpose. When it suddenly vanishes and a body is discovered, it falls to Gamache to discover if a debt has been paid or levied.

In the early days of the investigation into the murder, and months later, as the trial for the accused begins in a Montreal courtroom on a steamy day in July, the Chief Superintendent continues to struggle with actions he's set in motion, from which there is no going back. "This case began in a higher court," he tells the judge, "and it's going to end there."

And regardless of the trial's outcome, he must face his own conscience.
I love Louise Penny's Armand Gamache series. If you haven't read it, you should. Do start at #1 though, you'll appreciate them most that way.
That being said, this was not my favorite of the series. I liked the whole concept the book is built around, the ideas of Conscience and guilt and judgement. As always, the characters are well-done and I am happiest when a large part of the book revolves around the familiar village of Three Pines, as it does here. There are some new folks in town, most of whom have secrets, but finding out who they are and what they know/have done was interesting. Our old friends are all pretty much the same as always, which is good.
Things that didn't work for me:
1. The construction of the story. This story jumps back and forth in time too much and too abruptly. We are at a courtroom trial in the present, but for half of the book we don't know who's on trial or who they killed. We jump back to the time when the figure appeared on the square and the crime that soon follows. I didn't like the set-up and it's not what I expect from Penny. Yes, I know authors can broaden their styles, try new things, but bah. I did listen to it on audio, maybe the transitions worked better in print. I didn't really notice if they happened around chapter breaks or not.
2. It's a bigger story than I like. It deals with the opioid epidemic and drug cartels. Yes, there was the murder and a small list of suspects, but I prefer a book to stay there. I don't need the larger story, in this case it was the "war on drugs" but it could be any government/society altering scenario. They're just not my cup of tea (or cafe au lait, since we are in Three Pines).
3. Gamache seemed a little off here. He's always serious and caring, but I think the serious and, I don't want to say guiltiness, but maybe the pressure of what he's doing is weighing a bit too heavy, and repeated a bit too much.
And then there were the last two chapters, which were just excellent and almost redeemed the entire book for me.