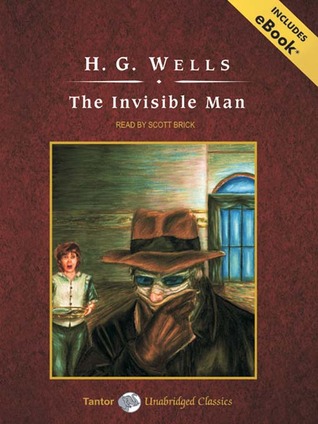 The Invisible Man
by
H.G. Wells
Narrator:
Scott Brick
Published by
Tantor Media
on 2006 (first published 1897)
Source:
Library
Genres:
Classic
,
Science Fiction
Length:
6 hrs 14 mins
Format:
Audiobook
Purchase at
Bookshop.org
or Purchase at
Amazon
Add on
Goodreads
With his face swaddled in bandages, his eyes hidden behind dark glasses and his hands covered even indoors, Griffin the new guest at The Coach and Horses is at first assumed to be a shy accident-victim. But the true reason for his disguise is far more chilling: he has developed a process that has made him invisible, and is locked in a struggle to discover the antidote. Forced from the village, and driven to murder, he seeks the aid of an old friend, Kemp. The horror of his fate has affected his mind, however and when Kemp refuse to help, he resolves to wreak his revenge.
I expected The Invisible Man to be a horror novel, turns out it's more science fiction. He's not a monster, he's just a man. Griffin is a genius scientist who used chemicals and electricity to turn himself invisible. However, after the years of research, when he finally figures out how to do it, it's winter. Does he wait? No, he goes ahead and does it to himself, after testing the solution on a cat, and becomes invisible. Mind you, to not be seen, he has to be naked – in the cold – in England. While he may be brilliant, he is not the best planner.
I think I enjoyed The Invisible Man in part because I had no expectations. I knew it was about an invisible man, but I didn't know anything about the plot. Needless to say, life as the invisible man is not easy. He's isolated, often hungry and tired, he can't trust anyone. When he finally finds someone he thinks can help him, he's betrayed. But you can't really feel sorry for him, because he is not a nice guy, even before he becomes the invisible man. After he turns invisible, he's worse. He has a violent temper and is disdainful of other people. He seems to view the world as him versus the rest of society and is sure that he is better.
I do wonder if an invisible man who wasn't psychotic would fair better these days than in the 1890s. The world is louder and more anonymous. You can have nearly anything delivered to your house without even needing to sign it and can make money on-line. You could still wreak terror if you so desired, but could be safer than he was and maybe even part of a mad scientist group chat.