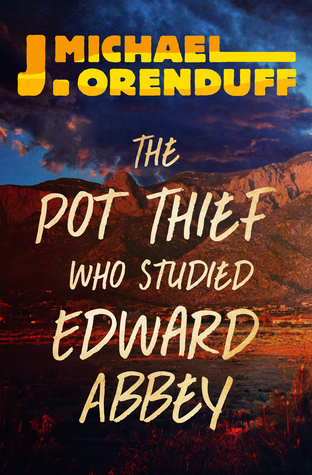 The Pot Thief Who Studied Edward Abbey
by
J. Michael Orenduff
Series:
The Pot Thief Mysteries #8
Published by
Open Road Media Mystery Thriller
on May 22, 2018
Source:
NetGalley
Genres:
Mystery
Pages:
300
Format:
eARC
Purchase at
Bookshop.org
Add on
Goodreads
Before making a somewhat notorious name for himself as a salvager of antiquated pottery and other desert artifacts, Hubie Schuze was an eager student at the University of New Mexico—right up until they booted him out. Now, he's back at UNM as a pottery teacher. It should be a breeze, but campus life has changed dramatically in the past twenty-five years. From cell phones to trigger warnings to sensitivity workshops, Hubie has to get up to speed fast or risk losing control of his class.

But his dismay at the state of modern academia takes a back seat when a young beauty working as a life model is murdered—and Hubie becomes a suspect. Taking the investigation into his own hands, he soon uncovers a wide palette of sketchy suspects that includes both the self-involved student body and the quarrelsome art school faculty.

But what he doesn't know is that the murderer has a new artistic project in the works: a headstone for the grave of Hubie Schuze . . .
The Pot Thief Who Studied Edward Abbey is the second Pot Thief mystery that I've read. It's just a really good book. I read it during the readathon last weekend and I kept reading it past the end time to finish it. Hubie Schuze is fun, honest, and I would have enjoyed taking his pottery class.
I didn't know who Edward Abbey was before I picked up the book. Edward Paul Abbey (January 29, 1927 – March 14, 1989) was an American author and essayist noted for his advocacy of environmental issues, criticism of public land policies, and anarchist political views. A couple of his best known works are a novel, The Monkey Wrench Gang, which has been cited as an inspiration by environmental groups, and the non-fiction work Desert Solitaire, both of which Hubie reads during the course of the book. He tends to think along similar lines as Abbey, it seems.
One of Hubie's students is killed, not during his class, thankfully. I think the characters are the highlight of this book. The students are an interesting group, each with their own strengths and weaknesses.  And Hubie's regular circle are here again, they are just a great group of people to hang out with. I'd love to sit in on one of their margarita sessions.
The mystery solution itself was a little convoluted.All the clues worked out and even though the motive made sense, it just wasn't a satisfying conclusion. But we did have the requisite "our amateur detective might get killed" scene. That's okay though, the setting and people make up for the minor issues I had with the mystery plotline.