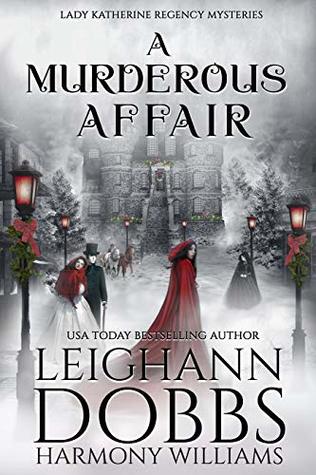 A Murderous Affair
by
Leighann Dobbs
,
Harmony Williams
Narrator:
Beverley A. Crick
Series:
Lady Katherine Regency Mysteries #4
Published by
Tantor Audio
on April 30, 2019
Source:
Purchased
Genres:
Cozy Mystery
,
Christmas
Length:
6 hrs 53 mins
Pages:
352
Format:
Audiobook
Purchase at
Bookshop.org
or Purchase at
Amazon
Add on
Goodreads
Lady Katherine juggles Christmas festivities, a perplexing cold case and a wager with the annoying Captain Wayland that will prove once and for all which of them is the better detective. It's the Christmas season in London, but the holiday festivities don't deter Lady Katherine from investigating a death that happened months earlier. Since the victim was a maid, investigative resources were sparse, and the police hastily wrote it off as a random killing. But Lady Katherine and her friends believe it was nothing short of premeditated murder, and they vow to seek justice. With her Bow Street Runner friend Lyle acting as a neutral party, Katherine teams up with her friend Prudence Burwick, her maid Harriett, and of course her pug Emma. Wayland has the aid of Pru's fiancé Lord Annandale and his valet McTavish. The two teams race against each other in a hunt for clues that takes them through the servants' quarters, stables, and seedy underbelly of London in search of a dangerous killer who thinks they got away with murder. Will the best men... or women… win?
Lady Katherine is a non-traditional woman for her time. Her passion is solving murder mysteries, and only a few people know that's what she does. Most people believe she's a matchmaker.  A Murderous Affair is the first I've read in the series. It works fine as a stand-alone, but I would probably know the characters better if I had started at the beginning.
It's the Christmas season, but Katherine, along with a set of I presume recurring characters, is asked to investigate a more or less cold case. A maid was murdered six months ago, the same night as a terrible thunderstorm and a fire at the Hound and Ale Pub. Bow Street has dismissed is a random case of violence, and in all honesty, they're not terribly concerned about the death of a servant anyway. Two teams form, the men, Captain Dorian Wayland, Lord Annondale and Annondale's valet, Mctavish on one side with Lady Katherine, Prudence Burwick (Lord Annondale's fiancee), and Harriet (Katherine's maid). Wayland and Katherine make a bet on who will figure out the identity of the murderer first. Lyle, their friend and Bow Street runner, will remain neutral.
We follow the women on their investigations. Harriet uses her friendship with the servants of the maid's former house while Katherine and Prudence talk to shopkeepers and others. It was fun and the competition made it interesting.
I didn't understand why Katherine is so wary of Wayland. She says her father doesn't like him, but when she and her father talked about things I didn't get that feeling. I also didn't really understand why Katherine seems to dislike seeing people in love behaving as if they enjoy each other's company. She complains about the behavior of her father and his wife, even of Annondale and Prudence. I like that Lady Katherine is independent, is buying her own home, is not worried about finding a husband, but she can be rather annoying too.
Overall this was a light mystery that just happened to be set during Christmas. Although Lady Katherine had to attend several Christmas family functions, the mystery itself wasn't really Christmassy – maybe because the murder had actually happened six months prior.