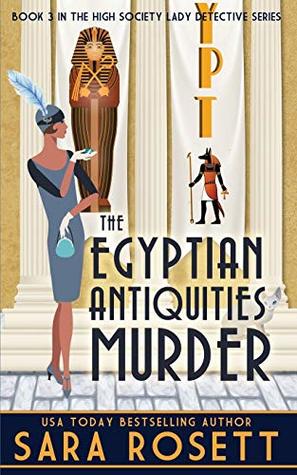 The Egyptian Antiquities Murder
by
Sara Rosett
Narrator:
Elizabeth Klett
Series:
High Society Lady Detective #3
Published by
the author
on April 22, 2019
Source:
Purchased
Genres:
Cozy Mystery
,
Historical Mystery
Length:
6 hrs 3 mins
Pages:
274
Format:
Audiobook
Purchase at
Bookshop.org
or Purchase at
Amazon
Add on
Goodreads
An opulent London townhouse, a mummy curse . . .

. . . and a plucky lady detective. It's October, 1923, and Olive Belgrave has a new case. Her client, Lady Agnes doesn't believe in curses, and she hires Olive to prove her Egyptologist uncle wasn't the victim of a malevolent mummy. Olive investigates and discovers the truth is much worse--it's murder.

Can Olive debunk the curse and reveal the true culprit before the supposed curse claims another victim?
I'm on a bit of a roll with these High Society Lady Detective mysteries. The Egyptian Antiquities Murder takes us to Mulvern House where Olive Belgrave meets with Lady Agnes about her uncle's death, a death that has been ruled a suicide. Lady Agnes is sure her uncle was murdered. Many think an old curse was responsible for Lord Mulvern's death, but of course once Olive starts to investigate she realizes that Lady Agnes is right. Now Olive just needs to figure out whodunit and why.
The author introduces us to several new characters. Lady Agnes wants to keep her uncles vision alive, unlike the other heirs. Her brother Gilbert and his wife Nora care mainly about the money and themselves making them suspects on Olive's list. The Lord's valet/butler received a generous bequest and retired so he too lands on her list. There are several others interested in obtaining the collection and the digging location that comes with it. There is also a collection manager and a new butler. Olive must speak to them all.
I loved the setting for this story. Lord Mulvern was an eminent Egyptologist with a vast collection and his niece shared his passion. There was a major renovation to the building, a grand gallery, in order to store and showcase the collection. Ms. Rosett vividly describes several of the magnificent pieces. Honestly, the Egyptian artifact angle was really interesting to me, and coincidentally Amber and I recently saw the mummy exhibit at the Carnegie Science Center. It was mummies from around the world, not solely Egypt. It was an awesome exhibit though.
I knew from the start this would be a hard mystery for Olive to solve. So much time has passed, no real evidence was left behind. She found one piece of evidence and really ran with it and all the clues that subsequently followed. I enjoyed following along with Olive and her process. There were plenty of twists and turns.