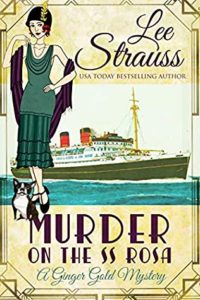 Murder on the SS Rosa
by
Lee Strauss
Narrator:
Elizabeth Klett
Series:
Ginger Gold #1
Published by
La Plume Press
on December 19, 2017
Source:
Library
Genres:
Cozy Mystery
,
Historical Mystery
Length:
3 hrs 34 mins
Pages:
168
Format:
Audiobook
Purchase at
Bookshop.org
or
Audible
Add on
Goodreads
It's 1923 and young war widow fashionista Ginger Gold makes a cross-Atlantic journey with her companion Haley Higgins to London England to settle her father's estate. When the ship's captain is found dead, Ginger is only too happy to lend her assistance to the handsome Chief Inspector Basil Reed.

The SS Rosa delivers a convincing array of suspects - the wife, the mistress, a jealous crew mate. To Ginger's dismay, her name has been added to the list! With a little help from Ginger's dog Boss, Ginger and Haley navigate the clues (those wartime operative skills come in handy.) They must solve the case and clear Ginger's name before they dock–and oh, whatever shall she wear!
It's the Roaring 20's and Ginger Gold is sailing on the SS Rosa to settle her father's estate in England when the captain is murdered. There are several suspects among the passengers and crew. Ginger used to work for the secret service in some form or other and is more than capable of helping solve the case.
This novella is a fun introduction to Ginger and her dog Boss, her American friend Haley, and the handsome Chief Inspector Basil Reed. It's a charming mystery and I have to admit to loving all of the 1920s touches. Ginger is fun and observant. She's a member of upper society but after the war society is changing and she's fine with that. The dialogue is witty and it kept me guessing. It's also short, which is nice sometimes.
Reading this book contributed to these challenges: