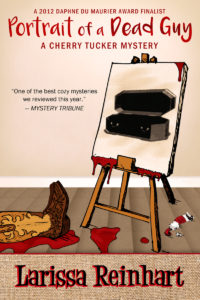 Portrait of a Dead Guy
by
Larissa Reinhart
Narrator:
Erin Clark
Series:
Cherry Tucker Mystery #1
Published by
Audible Studios
on October 8. 2013
Source:
Purchased
Genres:
Cozy Mystery
Length:
10 hrs 1 min
Pages:
230
Format:
Audiobook
Purchase at
Bookshop.org
or
Audible
Add on
Goodreads
In Halo, Georgia, folks know Cherry Tucker as big in mouth, small in stature, and able to sketch a portrait faster than buckshot rips from a ten gauge -- but commissions are scarce. So when the well-heeled Branson family wants to memorialize their murdered son in a coffin portrait, Cherry scrambles to win their patronage from her small town rival.

As the clock ticks toward the deadline, Cherry faces more trouble than just a controversial subject. Between ex-boyfriends, her flaky family, an illegal gambling ring, and outwitting a killer on a spree, Cherry finds herself painted into a corner she'll be lucky to survive.
As a small-town portrait artist, Cherry Tucker works hard to make a living. So when she hears that the wealthy Branson family wants a portrait of their trouble-making son, Dustin, she jumps on it. Yeah, painting a dead guy in a coffin is a little odd, but she can handle it. Then she finds herself accused of trespassing and stealing from a corpse. She's also the suspect in a murder. She needs to figure out who killed Dustin if only to save her reputation.
Cherry is a fun character. She's sassy, smart, and talented. She has a weakness for pretty men and is firmly loyal to her friends and family. We've got the usual quirky characters and a stubborn goat, but it's all done with a bit of Southern charm and flare.
The mystery itself was good. I guessed who the killer was but didn't know the motive. There were several clues and enough red herrings to keep Cherry on her toes.
Portrait of a Dead Guy was fun, light-hearted, and laugh-out-loud funny. I'm looking forward to the next in the series I will admit this has been sitting on my to-read list for quite a while – I should have picked it up earlier.
Reading this book contributed to these challenges: