Thanks to Marcia at The Printed Page for hosting Mailbox Monday. I love coming home after work and finding a package or two waiting for me. 
The Holy Bullet by Luis Miguel Rocha
An international journalist, a war-weary Portuguese veteran, a Muslim with visions of the Virgin Mary, a rogue priest and members of the world's most powerful—and secretive—organizations come together in another gripping Vatican thriller. After the suspicious death of Pope John Paul I, a few operatives bold enough to penetrate the Vatican's shadowy inner circle will investigate what went wrong—and try to prevent the popular new Pope from meeting the same fate. But unfortunately for them, a passion for truth and justice can be dangerous, especially to John Paul II.
The Hidden Man by David Ellis
J ason Kolarich is a midwestern Everyman with a lineman's build and an easy smart-ass remark. He's a young, intelligent maverick, but he's also struggling with an overwhelming emotional burden—one that threatens to unravel his own life, and possibly the lives of those around him.
Twenty-seven years ago, two-year-old Audrey Cutler disappeared from her home in the middle of the night. She was never found. All the detectives had to go on were vague eyewitness accounts of a man running down the Cutlers' street, apparently carrying someone. Without enough evidence to suggest otherwise, Griffin Perlini—a neighbor with prior offenses against minors—was arrested, but never convicted.
The case is long closed when Perlini is murdered nearly thirty years later. Now a man named Mr. Smith appears in Jason Kolarich's office, saying only that he represents a third party who wants the man charged with murder off the hook and that Kolarich is perfect for the job. The new client: Audrey Cutler's older brother, Sammy—Kolarich's estranged childhood best friend—a man he hasn't seen in nearly twenty years.
How to Score by Robin Wells
Museum curator Sammi Matthews isn't just in a dating slump, she's putting men on the injured list. After giving one date a black eye and cracking another's rib, Sammi decides she needs professional help. Enter life coach Luke Jones, who advises Sammi on how to overcome her klutziness. And their phone sessions work! Sammi soon meets a sexy FBI agent who seems to know just what she needs.
When his brother Luke goes into federal protection, FBI Special Agent Chase Jones agrees to cover for him. Then Sammi's hot voice sizzles down the line, and the usual "phone only" rule is out. With "Luke" coaching her by day, and Chase dating her by night, Sammi's confidence soars, along with her appeal. Chase falls hard, but how will Sammi feel if and when he comes clean? Chase would rather she break all his bones than risk breaking her heart.
Julie and Julia by Julie Powell
Julie & Julia, the bestselling memoir that's "irresistible….A kind of Bridget Jones meets The French Chef" (Philadelphia Inquirer), is now a major motion picture. Julie Powell, nearing thirty and trapped in a dead-end secretarial job, resolves to reclaim her life by cooking in the span of a single year, every one of the 524 recipes in Julia Child's legendary Mastering the Art of French Cooking. Her unexpected reward: not just a newfound respect for calves' livers and aspic, but a new life-lived with gusto.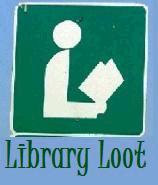 I only picked up one at the library this past week. Library Loot is co-hosted by Eva and Marg.
Booked to Die by John Dunning
Cliff Janeway quits the force when he is suspended pending the outcome of brutality charges brought by his nemesis, Jackie Newton. Long a collector and frequenter of Denver's Book Row, Janeway rents space, hires the charmingly efficient Miss Pride as his assistant, and opens Twice Told Books. And, on his own time, works on a case that the Denver force has no leads on: the murder of book scout Bobby Westfall. As Janeway goes deeper and deeper into the book business, he manages to pinpoint Bobby's last day–the book dealers he sold to, the collector he bought from, and the big score he was double-crossed out of. Then a book-scout friend of Bobby's and the estimable Miss Pride are executed at Twice Told Books, and Janeway ups his investigative pace, which involves meetings (and romance) with a highly secretive rare-book dealer; scrutiny of a collection appraisal; and schmoozing with the owners along Book Row, until an alibi, like some book spines, cracks. Janeway, who can be tough, sensitive, and passionate, is a credible hero, both as cop and as book-lover.
What books found there way to you this week?