I Has a Hotdog by Professor Happycat and ihasahotdog.com
This is not my usual type of book. To be honest, I'm not a big fan in general of those cute animal pictures with funny captions. That's just not the kind of thing I find funny usually. But I had to review this one, because, you see, my daughter (10) found it hilarious. The day it came in the mail, she told me grandma has the cat one, which must be I Can Has Cheezburger?, then she sat down, looked at every picture, laughing and giggling and showing me one everyone few minutes. And then David got home, and he had to look through it and laugh too.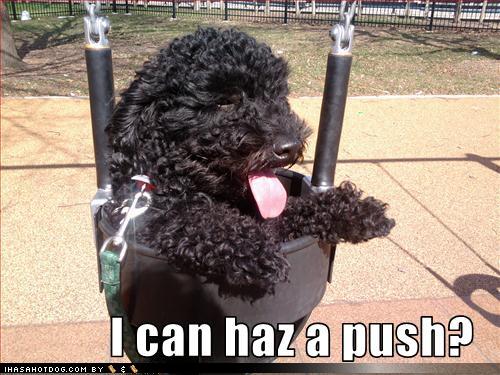 It really is a cute little book. Fun, light-hearted. Probably not something I personally would spend my money on, I can imagine a lot of people really enjoying it.
The pictures included here are from the I Has a Hotdog website.
Do you know what your dog's really thinking?
Published April 20, 2010 by Grand Central Publishing
I received my copy from the publisher for review and the above is my honest opinion. I am an Amazon associate.