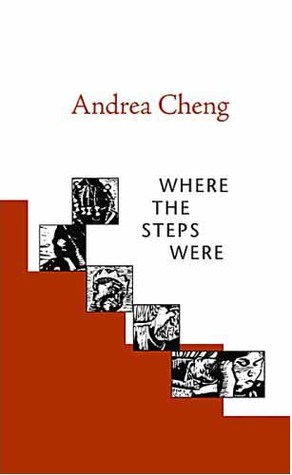 Where the Steps Were by Andrea Cheng
(The suggested age range this is marketed to is grades 2-4, but I'm not sure if they would really get it or connect with the format. I read it by myself, so this review is from my point of view as an adult with a child in elementary school.)
I found this book of free verse poems through the eyes of five third-graders touching, revealing, beautiful. Cheng truly captures the thoughts, dreams, fears and worries of a group of third graders spending their last year at Pleasant Hill Elementary. The five students, Dawn, Kayla, Jonathan, Anthony, and Carmen, are all in Miss D.'s class and they adore here. She teaches lessons about the Civil War, Abraham Lincoln, Martin Luther King, Jr., and Harriet Tubman, and the kids relate, witnessing racism and oppression in their own lives.
Each of the children are individuals dealing with issues common to all third graders, like friendships, family relationships and the school play, but they each have their own problems, too. Jonathan for example is living in a homeless shelter, Dawn is overweight, and Carmen's mother is sick.
KAYLA

Tests

They have all these tests
like benchmark and proficiency
but I don't even care
about those boring stories
that I can't read.
Miss D. says
You better care, Kayla.
If you don't pass
you'll have to repeat third grade.
Before the test
Miss D. puts the dreams poem
back on the board.
and then I remember
I can read.

(pg. 92)
The children are so precious and honest, I was in tears by the end of the book. Not a good thing, as I'm sure the other parents waiting to pick their kids up from art class were looking at me like a was nuts. Oh, well. It made me remember how tough childhood can be, all the things you worry about, important things and things that will pass.
This is one of the selections this year for Choose to Read Ohio.The author, Andrea Cheng, teaches English as a Second Language in Cincinnati, Ohio,where she lives with her husband and their three children. She is the daughter of Hungarian Jewish immigrants and grew up among extended family members, many of whom survived the Holocaust. Ms. Cheng attended Cornell University where she studied intensive Chinese. She then married a Chinese American, himself the son of immigrants. Ms. Cheng and her husband settled in Cincinnati in the inner city. Ms. Cheng's sister teaches third grade in the inner city in Cincinnati and Where the Steps Were is based on her class.
Published March 2, 2008 by Front Street
143 pages
Challenge: Read Ohio, 100+
I borrowed my copy from the library and the above is my honest opinion. I am an Amazon associate.