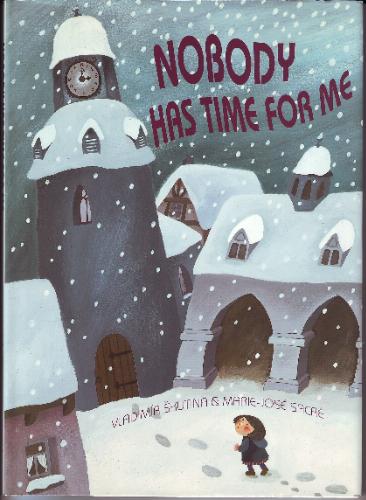 Nobody Has Time for Me by Vladimír Škutina, illustrated by Marie-José Sacré, translated by Dagmar Herrmann
(Suggested reading level: Kindergarten- Grade 2)
Skutina called his story a modern fairy tale, a comment on our hurried lives. Karin is a sad little girl. No one in her family has time to play with her or talk to her. So she heads out into the snowy late afternoon to find Time on her own, sure he must live in the clock tower. She bravely enters the tower through the heavy wooden doors and climbs the old winding stairway. At the top she meets Father Time, actually the clockmaker, who explains that while time never stops, people can make time. When she hurries home right at curfew, her parents ask where she's been and she responds, "In a fairy tale."
When Karin was almost ready for bed, her parents asked to hear the fairy tale.

"It's about Time," Karin said, "and I'll tell you … if you make a little time for me." (pg. 23)
The fable makes an important point. We need to make time for the people who matter to us. But I wasn't impressed overall. I don't Karin really learns much about Time and the writing doesn't flow like I want it to. It doesn't give me that fairy tale feeling, if that makes sense. Maybe it's due to the translation, I don't know. And, even though it seems like it's written for children, the message is really for adults. Take time to pay attention to your kids; they miss you.
The illustrations however are lovely. The story takes place in a snow-covered European town with streets crammed with gingerbread-style houses, cars and busy people. The pictures make it feel like a fairy tale, modern but magical.
Tif, from Tif Talks Books, is the hostess of this great feature, Fairy Tale Fridays. Head over there to see what modern tale she's talking about  and to share your own thoughts. Next week we'll be looking at "The Bremen Town Musicians."
Published September 1991 by Wellington
26 pages
Challenges: 100+, A to Z

I borrowed my copy from the library and the above is my honest opinion. I am an Amazon associate.