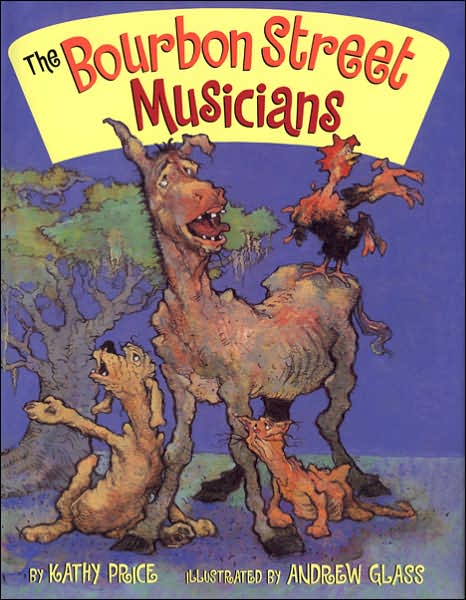 (Suggested reading level: Pre-K through Grade 3)
I mentioned a week or two ago that I was looking for a picture book version of  "The Bremen Town Musicians" that I liked. I love the idea of sharing traditional fairy tales and folk stories with kids, but some re-tellings are just better than others. This is not one of the best. Well, I take that back. I really enjoyed how the story was told, but felt the illustrations ruined the book.
What I liked:
Price has taken the traditional tale and set it in New Orleans. The four old animals decide to run away to Bourbon Street to become musicians. As in the original, the donkey is the first to set out and gathers the others along the way, with the cat the last to join the troupe.
"Why not come wit' us?" invited the mule. "We is goin' to Bourbon Street to bebop and jazz. You can carry a tune and you have a bit of the torch in your song, so come wit' us, and we'll mardigras and hi-de-ho."

"Sho' nuff?" asked the cat.

"As grass is green, sho' nuff," answered the rest. (pg. 22)
In this story though, the little house becomes a crawfisher's shack. The rhythm of the writing, the dialect and the vocabulary fit the setting to a tee. I love the jazz feel and the flavor of the words. It just seems like it could be a great story to read aloud. There's even a glossary in the back that defines some of the Cajun phrases.
What I didn't like:
The illustrations. They're dark, dreary and woggely. I know that's not a word, but it's what comes to my mind. The outlines are all shaky, the shapes not quite right and the colors sad, like the cover above. It's really a shame. Amber glanced at the book while it was sitting on the table and I mentioned that I thought the picture were kind of creepy. She flipped through it and said "scary." I don't think it's a good sign when a 10 year-old says a pictures book's drawings are scary.
Looks like I'll have to keep looking for a re-telling of this one that strikes my fancy.
Published April 22, 2002 by Clarion Books
40 pages
Challenge: 100+
I borrowed my copy from the library and the above is my honest opinion. I am an Amazon associate.