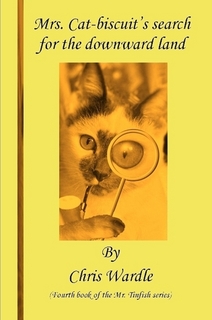 (Suggested reading level: Grades 3-6)
This fourth book in the series starts with the two cats, Mr. Ginger and Mr. Choli, waking from a nap when the car they sleep in slides downhill, stopping beside Mr. Vinegar's cottage. It's an earthquake! Thankfully, the only other damage in Daphne Wood i a collapse at the entrance to the mine, which is quickly taken care of. In an interesting turn of events, though, the land has been raised much higher than sea level.
In typical colony fashion, two expeditions are formed. The first, led by an excited Mrs. Cat-biscuit sets off in the boat searching for an area where the land has gone down. After all, when something goes up, like their shore, something else must go down. What they find though, is an oil spill caused by the quake. The humans are still wreaking havoc on the environment, even after they've become extinct.
The second expedition is led by Mr. Choli and Mr. Ginger, who are determined to avoid water this time around. Mr. Choli thinks that this will be less of an adventure, and more of a "'walking holiday' in a north-westerly, non-sea and non-water-related, direction." (pg. 34) Their purpose is to see what else the earthquake has done and form ideas of how to protect the residents of Daphne Wood in the future.
As always, the animals resourcefulness is simply amazing, as is their ability to work together. I have to say, though, that it bothers me a little that the two horses, who are definitely contributing members of the colony, never get names or speaking parts for that matter. Also, there seemed to be more grammar issues in this one than in the previous books, little things like missing quotes, enough that I noticed but kids probably wouldn't.
Overall, though, this is another fun story. The animals are all so quirky but get along well for the most part.
You can purchase the series at Lulu.com.

Mr. Tinfish #4
86 pages
Challenge: 100+
I received my copy from the author/publicist for review and the above is my honest opinion. I am an Amazon associate.